Is someone you know moving into a new home? Did someone recently complete a bathroom remodel? If so, housewarming and remodel gifts are a great way to show that person you're thinking about them and care for them. The bathroom may even be overlooked sometimes, so consider gifting some cute bathroom decor!
There are so many different decorating styles and items that it may feel overwhelming to pick out the perfect gift. Don't fret. We put together a list of 15 bathroom decor gift ideas to help you out. So, without further ado, let's get into it!
1. Bathroom Rules Canvas
Wall art is an excellent way to add some fun style to the bathroom. This canvas piece features the words "Bathroom Rules" on top of the text "Wash, Brush, Floss, Flush," encouraging the basic bathroom rules. The design is timeless and eye-catching.
The canvas is stretched across real pine wood for extra durability and strength. There's a sawtooth hanger on the back for easy hanging. Choose from over 4 different sizes.
Click here to see more on Amazon.
2. Funny 3-Piece Animal Canvases
These funny bathroom canvas prints feature three different dogs holding a newspaper as they sit in the bathroom. The ink used is top-quality, resulting in high definition printing and long-lasting color. You can order these canvases in two different sizes: 12 inches x 16 inches or 16 inches x 24 inches.
Click here to see more on Amazon.
3. Whale & Boat Candle Holder
If your friend has a nautical-themed bathroom, you can't gift them with a more perfect item. The resin whale and boat holder has a weathered driftwood look to it, adding to the charm. While a tealight goes perfectly in the boat, you can use it for any other type of decor, too. It measures approximately 5 inches wide x 6 inches high x 3 inches deep.
Click here to see more on Amazon.
4. Mason Jar Bathroom Accessories
Mason jars provide ultimate versatility. These jars have been turned into the perfect bathroom accessory holders: a soap dispenser, a toothbrush holder, and 2 apothecary jars. All the lids are crafted from coated stainless steel in a bronze-colored finish.
Click here to see more on Amazon.
5. Woven Rope Storage Basket
You can never have too many storage options. This woven rope cat face storage basket is adorable and perfect for extra storage. The rope is 100% cotton. The basket measures 15.7 inches long x 13 inches wide x 11.8 inches high. Choose from 4 different color options: beige, black, grey, or jute.
Click here to see more on Amazon.
6. Acacia Wood Bathroom Accessories
Acacia wood is simple yet very aesthetically pleasing. The natural wood tones match with nearly any style of decorating. This 3-piece set includes a liquid soap dispenser, a toothbrush holder, and a soap dish with a drain. These accessories are durable and dependable. The finish used on these pieces makes them resist tarnish and corrosion.
Click here to see more on Amazon.
7. "Nice Butt" Wooden Box
Gift something humorous! This wooden bathroom storage box has the text "Nice Butt" written on it. For even more laughs, the back of the box has the text "Would Poop Here Again." The wooden box has a nice rustic look to it that's sure to charm. It measures 15 inches long x 5.8 inches wide x 4 inches high. It's the perfect size to fit on the top of the toilet tank.
Click here to see more on Amazon.
8. Bathroom Rules Decal
Use a wall decal to inform everyone about the bathroom rules. This removable sticker has the words "Bathroom Rules" with "Wash, Brush, Floss, Flush" scripted underneath. Since it's removable, you can move it around the bathroom until it's in the perfect spot.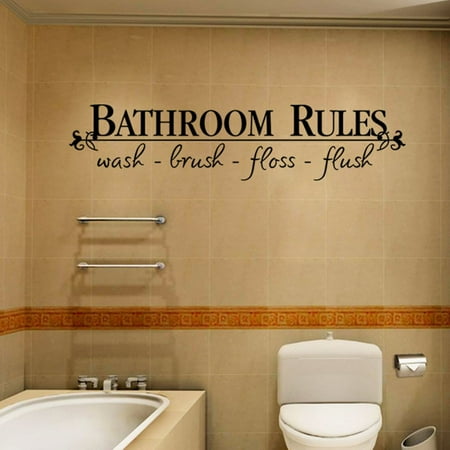 Click here to see more on Walmart.com.
9. Western Themed Bathroom Art
If your friend has a western-themed home or bathroom, this will make for an awesome gift. There are three separate prints. Two prints have a horse on them while the other print has the words "Remove boots & guns before entering the tub." Reading this sign will bring a smile to their face. Each print measures 8 inches x 10 inches.
Click here to see more on Amazon.
10. Black Bear Bathroom Holders
Check out these cutesy black bear bathroom accessories. There are two different black bear bathroom holders: one for toilet paper and one for a hand towel. Each bear is crafted from resin and is hand-painted. There is a metal mounting plate on the back of each one; screws are included for mounting.
Click here to see more on Amazon.
11. Set Of 3 Faux Succulents
No doubt succulents and other houseplants are a wonderful way to bring more life and vibrancy into the room. Each container has different faux succulents to add diversity. Burlap and twine wrap the containers for a slightly rustic and charming aesthetic. It's easy to keep these plants looking lively! Each container measures 6.7 inches tall x 3 inches wide.
Click here to see more on Amazon.
12. Decorative Candle Holders
Candles cast a warm glowing ambiance in the room. Incorporating this decorative candle holder into the bathroom is truly welcoming. The candle tray measures 10.04 inches long x 3.74 inches wide. There are three frosted glass candle holders: red, green, and orange. River rocks are used to fill in the empty space around the candle holders.
Click here to see more on Amazon.
13. Tic-Tac-Toe Bathroom Storage Shelf
This fun, jumbo-sized tic-tac-toe bathroom storage shelf can be used just for toilet paper storage or as an actual game! Toilet paper storage no longer has to be a boring activity. You can even customize the colors of the X's: turquoise, farmhouse red, black, or unpainted. Pick the stain of the shelf, too: medium brown walnut, sunwashed gray, ebony, or unfinished. All these options provide a very customizable experience.
The dimensions of this shelf are 23 inches tall x 23 inches wide x 4 inches deep.
Click here to see more on Amazon.
14. Dolomite Mason Jar Bath Set
This 4 piece dolomite mason jar bathroom accessory set is cute and colorful. Pick from either white or mint for the color. While not actually a mason jar, the pieces have been molded into the shape and design of them with the word "Bath" scripted on each one. The set includes a liquid dispenser, a soap dish, a tumbler, and a toothbrush holder. The pump is made from polished chrome.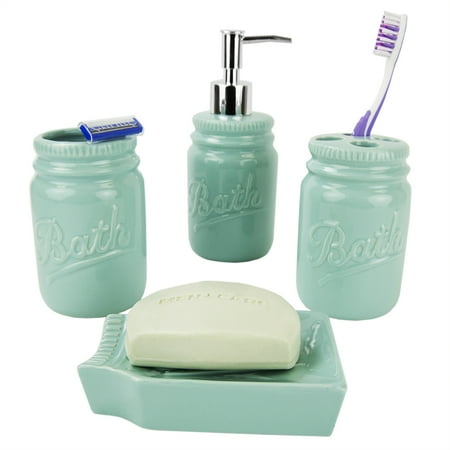 Click here to see more on Walmart.com.
15. Rustic Nautical Bathroom Decor
Help furnish your friend's nautical-themed bathroom with these 9 pieces of rustic nautical bathroom decor. This accessory set comes with a towel bar rack, a towel ring, a toilet paper holder, and 6 anchor-shaped wall hooks. Each piece is crafted from rustic brown cast iron and is outfitted with a drill hole. No hardware is included, but the pieces simply require a standard screw.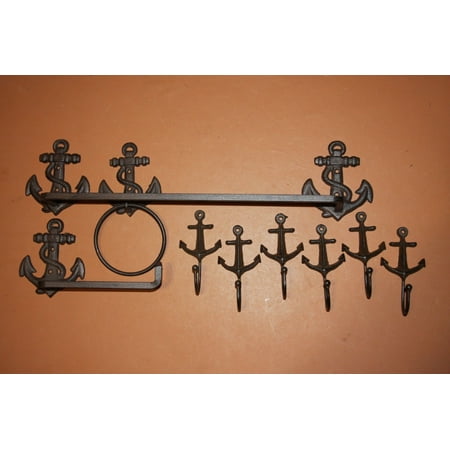 Click here to see more on Walmart.com.
Let us know in the comment section below which decor piece you decide to gift! Before you go, make sure to check out these other great home decor guides:
14 Must-Have Bathroom Items [The Complete Checklist]
8 Awesome Ways To Decorate A Bathroom Countertop