Bedrooms are some of the most fun and exciting rooms to decorate. They're safe havens, places of relaxation, and they are full of personality. That's why, when it comes to gift-giving, bedroom decor is a great option! A special person in your life will appreciate a thoughtful gift they can put in their bedroom. Bedroom decor comes in all kinds of styles, ensuring that you find just the right item.
If you're looking for the perfect gift to give someone, you've come to the right place. To help you with your gift search, we created a list of 13 bedroom decor gift ideas. So, without further ado, let's check them out!
1. 3D Moon Lamp
If you know a space-lover, this 3D moon lamp will take them out of this world. The surface is carefully crafted to simulate the real moon, based on NASA satellite imaging.
The moon lamp has 16 different color options, 5 light display modes, and 5 levels of brightness. Pick from 4 different sizes including 3.5 inches, 4.7 inches, 5.9 inches, and 7.1 inches. It has a 15 hour run time, and it can be charged via USB.
Click here to see more on Amazon.
2. 5-In-1 Bedside Lamp
This alarm clock speaker is perfect for the bedside table. It features 48 coloring-changing LED lights, a Bluetooth speaker, and a digital alarm clock. It has all that you need and more. You can even set your own music for the alarm clock.
A sleep mode option turns the light off after 20 minutes. The bedside lamp can be charged via a USB port.
Click here to see more on Amazon.
3. Sunrise Alarm Clock
Waking up with the sunrise is one of the most natural ways to wake up. This alarm clock simulates the experience by slowly brightening. In a span of 30 minutes, the brightness goes from 10% to 100%. Once it reaches 100% brightness, the alarm clock will start to go off. You can set 2 different alarms and snooze it for 9 minutes.
There are 7 colors that you can filter through: blue, indigo, purple, red, yellow, orange, and green. The LED clock display has 3 different brightness options.
Click here to see more on Amazon.
4. Electric Blanket
Get comfortable cuddling up into a warm electric blanket. It's crafted from soft sherpa and flannel fabrics that help retain the heat. There are 4 heat levels. The blanket measures 50 inches x 60 inches. Its rich red color provides a nice burst of color.
As a safety feature, it shuts off after 3 hours of continuous use. The power cable is 9.8 feet, so it has plenty of reach.
Click here to see more on Amazon.
5. Tortilla Throw Blanket
Turn yourself into a burrito with this hilarious tortilla-looking throw blanket. This soft flannel blanket has a 60-inch diameter. That's large enough to get rolled into it! It's very lightweight and breathable. It's even machine washable, so don't be afraid to carry it with you everywhere you go.
Click here to see more on Amazon.
6. Macrame Hanging Photo Display
Photo displays are essential in the home. It's an easy way to show off the people in your life and the places where you've traveled—much like a hanging scrapbook.
This macrame hanging photo display features a unique boho aesthetic with the wooden beads and tassels. It comes with 30 wooden clips for attaching photos. From the wooden dowel to the bottom fringe, it measures just over 42 inches long and 17 inches wide.
Click here to see more on Amazon.
7. "Let's Sleep In" Art Prints
These 3 little words are some of the best to hear. These prints are printed onto matte paper and then embossed with a linen texture. Each one measures 8 inches x 10 inches and is unframed. The font of the words is whimsical and simple, going well with any style of decor.
Click here to see more on Amazon.
8. Faux Sheepskin Rug
Sheepskin rugs are truly versatile. They work great as floor rugs, tossed over seating, or even hung on the wall. This faux sheepskin rug is super thick and soft and is crafted from non-shedding artificial animal wool. Suede backing makes it non-slip and durable. It measures 2 feet x 3 feet. If it gets dirty, machine wash it on cold. Lay it flat to air dry.
Click here to see more on Amazon.
9. Hanging Hammock Chair
Add some unique seating into the bedroom design with a hanging hammock chair like this one. The chair measures 51 inches x 39 inches and comes with 2 large oversized seat cushions. It's crafted from a strong cotton and polyester blend that will keep it durable and unlikely to tear.
Pick from several color options including white, beige, blue-striped, or multicolored-striped. Hanging hardware is not included.
Click here to see more on Amazon.
10. Wall-Mounted Jewelry Hanger
Finding space to hang and store jewelry can be a struggle. This wall-mounted jewelry hanger helps solve those problems. This jewelry hanger can fit earrings, necklaces, and bracelets onto it. It even comes with a specially-designed bracelet rod. There are 15 hooks attached to the bottom from which you can hang necklaces.
The holder measures 16.5 inches x 9.5 inches and the shelf measures 2.5 inches deep. The shelf is perfect for storing smaller accessories or decorative items. Wall-mounting hardware is included.
Click here to see more on Amazon.
11. White Feather Dreamcatcher Mobile
Dreamcatchers are whimsical on their own, so turning one into a mobile makes it even more attractive. The mobile has 2 tiers of dreamcatchers. Each one is outfitted with white feathers, beads, and even star-shaped LED lights.
The LED lights add a soft, warm glow to the room. The light display needs 2 AA batteries for operation. From top to bottom, the dreamcatcher mobile measures 31.5 inches.
Click here to see more on Amazon.
12. Photo Clip String Lights
String lights (sometimes called fairy lights) provide cozy illumination in the room. Since they're rather small, the faint glow looks charming. These string lights are even accompanied by clear plastic photo clips so that you have a unique display for photos.
There are 3 length options so that you can find the best size to fill your space. The lights are even portable! You can mount these lights practically anywhere.
Click here to see more on Walmart.com.
13. "Love" 3D Wall Decal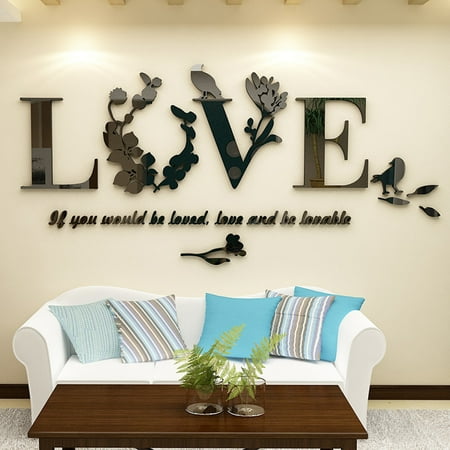 Wall decals are excellent ways to elevate the aesthetic of the room without much effort. This wall decal spells out the word "love" and it's even 3-dimensional. The acrylic wall sticker is removable, providing ultimate versatility. The decal comes in either black or white, so pick the color that best matches the bedroom.
Click here to see more on Walmart.com.
Drop us a comment below and let us know which bedroom decor you decide to gift! Before you go, make sure to check out these other amazing home decor guides:
What To Put In An Empty Corner Of A Bedroom?
How To Decorate Your Bedroom Walls [3 Questions To Ask Yourself]