There's no denying that end tables are a staple of home decor. They are functional yet highly decorative, and there's one that will suit virtually any space. A contemporary end table is a great choice, as the sleek and modern aesthetic pairs nicely with a wide array of decorative styles without being too visually overpowering.
However, picking out the best contemporary end table is easier said than done. With the countless available options, choosing the right one can be a challenge. But don't worry, because we made a list of 15 awesome contemporary end tables. Without further ado, let's get into it!
1. Nix End Table
The combination of wood and glass makes for a great pairing, especially in the contemporary style. The table has a neat x-shape in its legs to complete its look. It measures 24 inches wide, 24 inches deep, and 22 inches high. Its relatively small size makes it perfect to fit just about anywhere.
Click here to see this end table on Pier1.
2. Geometric Glass End Table
The contemporary style is always evolving, but there's no denying that this geometric glass end table blends in seamlessly with this style. Its champagne gold color looks classy and eye-catching. The color allows it to match perfectly with just about any color scheme you have in the room. It's sturdy and measures 24 inches by 24 inches.
Check out this end table on Pier1.
3. Charis End Table
If you want more than just looks out of your end table, then this is the one for you. It has a shadowbox-like appearance where you can display or store things on the bottom platform. Spruce up the bottom area by using a bowl or a basket full of decorative items or even arranging coffee table books. The materials are a beautiful combination of glass, metal, and wood laminate.
Click here to see this end table on Pier1.
4. Lucius End Table
The Lucius end table is one of the smaller options on this list. But just because it's small doesn't mean it can't provide value to the room's overall appearance. Its c-shape allows you to tuck it into a couch or armchair, making it possible to use it as a place to set your glass or a project you're working on without sacrificing any legroom. The minimalist contemporary end table is made of brass steel legs with a concrete tabletop.
Click here to see this end table on Pier1.
5. Aquitaine End Table
This end table is a modern contemporary take on a classical farmhouse look. While rustic wood may usually be used in the farmhouse aesthetic, the contemporary style borrows the look. The light-colored wood block is nestled in the middle of smooth black metal legs, just under the thin glass tabletop. Use the floating wood shelf for display, storage, or leave it as it is. This side table measures 19 inches wide, 19 inches deep, and almost 20 inches tall.
Click here to see this end table on Pier1.
If you want to find more end tables with storage, then you'll like this article: 11 Great End Tables With Storage For Your Living Room
6. Sofia Faux Marble End Table
A marble look is beautiful, perfect for mixing and matching with all kinds of elements and styles. The organic textures and colors within it provide a timeless, classic look. Because of these attributes of marble, this faux marble end table is ideal for adding value to your contemporary space.
Since the marble isn't real, it's much more lightweight and can be moved around easily. The tabletop is outfitted atop sleek, black metal legs. It measures 19 inches wide and deep and is nearly 20 inches tall.
Check out this end table on Pier1.
7. Nova Contemporary Metal End Table
This hammered metal end table oozes contemporary style. It features an ombre design as the shiny silver coat transitions into an inky charcoal color. The drum shape makes it possible to tuck the table into nearly any space. It measures just 20 inches in diameter and stands just over 22 inches tall. The manufacture even offers a 1-year warranty on this product, so go ahead and try this piece in your home.
Click here to see this side table on Amazon.
8. Copper Grove Table Set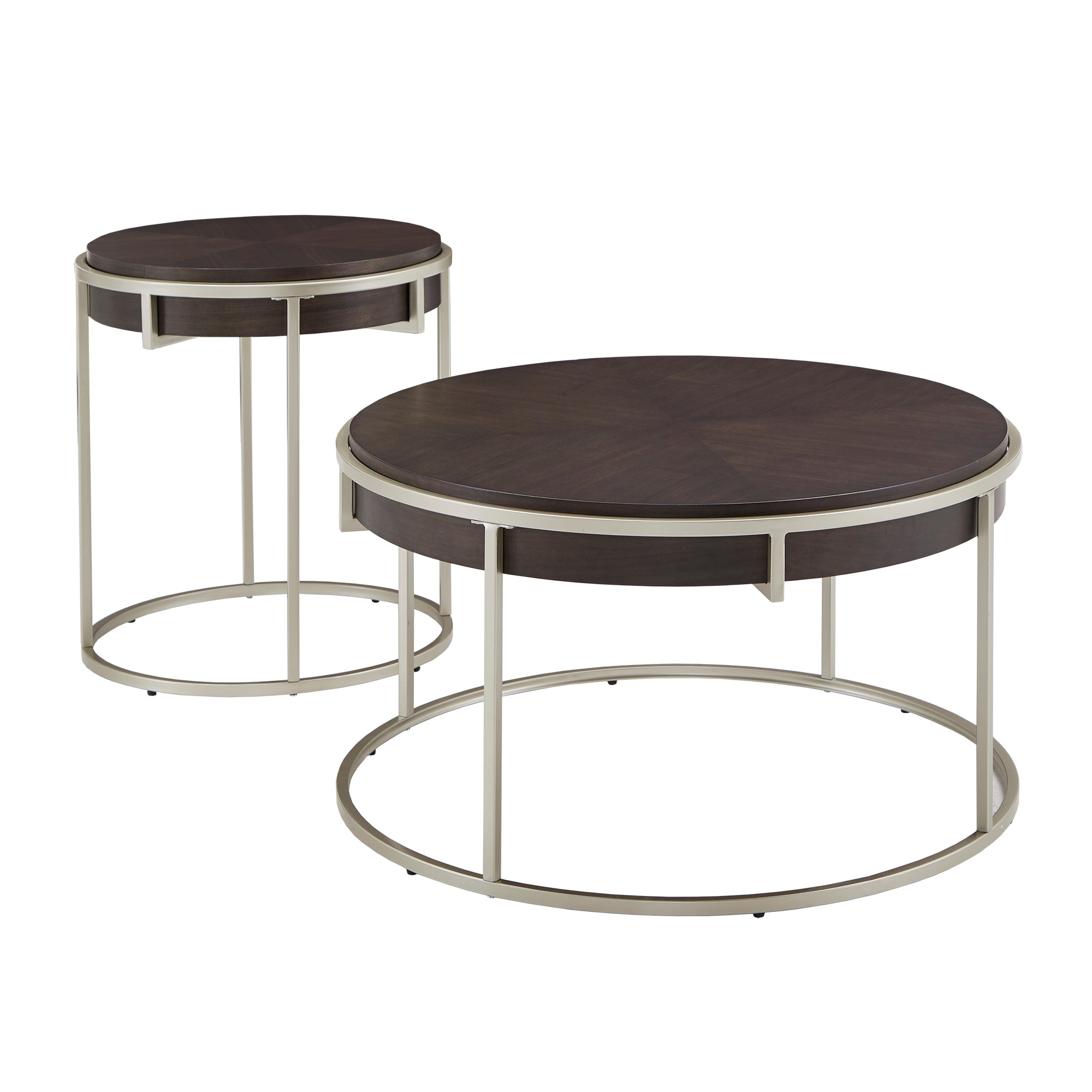 The dark walnut veneer of the tabletop contrasts beautifully with the powder-coated metal frame. What makes it even better is that the end table has a matching coffee table. The end table measures 24 inches in diameter and almost 24 inches tall while the coffee table measures 38 inches in diameter and 18.5 inches tall.
Check out this side table set on Overstock.
9. SEI Contemporary Champagne Round End Table
This end table is sure to evoke some statement of "ooh la la." No matter what light is striking this end table, it's sure to shimmer and shine at any time of day. Unique champagne-colored metal pieces wrap in a circle underneath a round, tempered glass tabletop. Its diameter is 23.25 inches and its height is 21.25 inches.
Click here to see this end table on Amazon.
10. Hannah Square Metal And Glass End Table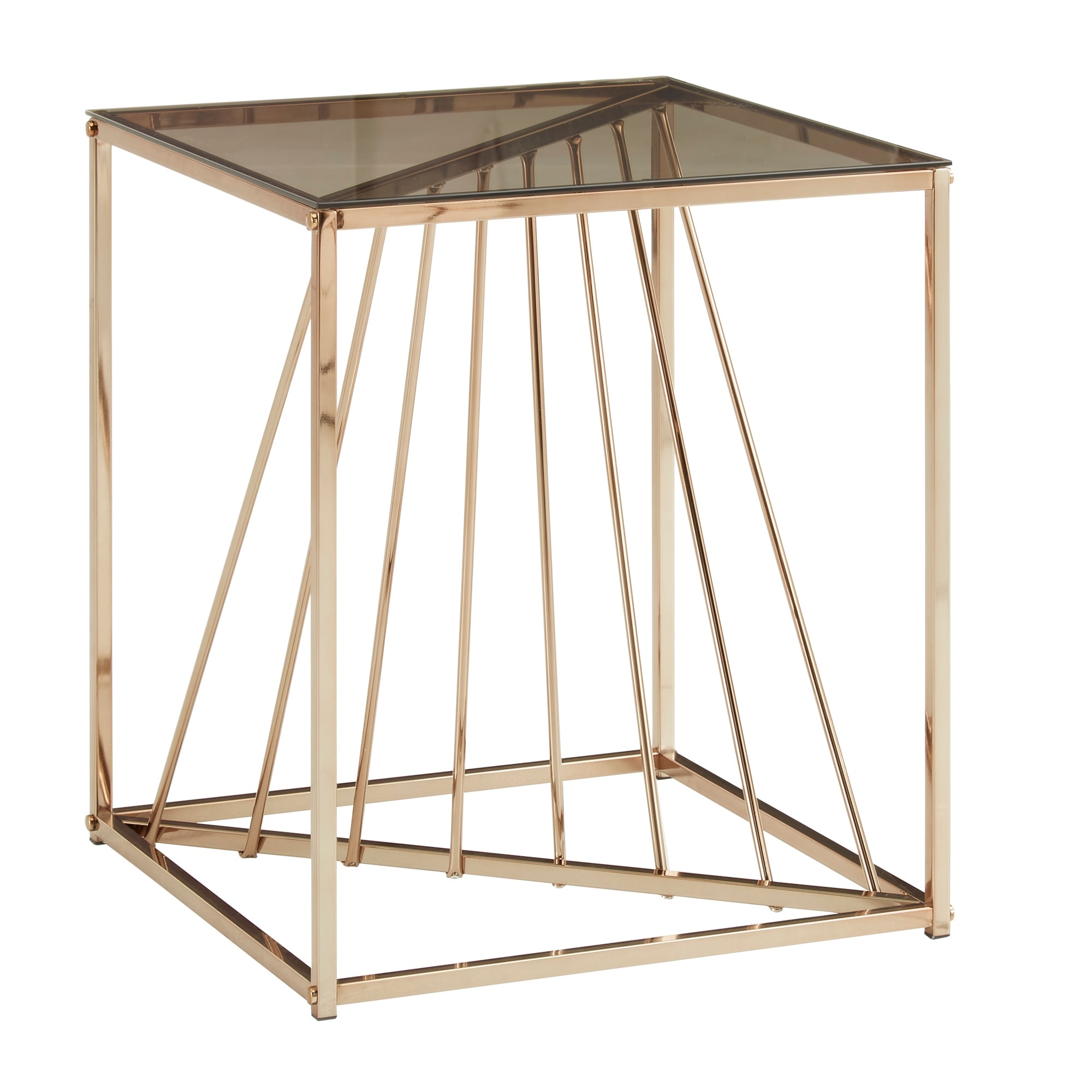 The metallic finish, interesting shape, and glass top make for a captivating contemporary end table. Even more, you can pick from champagne or chrome colors. The table measures 21 inches wide and deep and 24 inches tall.
Check out this side table on Overstock.
11. Signature Design Ring Table Set
If you want an entire set of contemporary tables in your living room, then you're in luck. This set features two matching end tables along with a coffee table. Each table features intertwining rings that evoke a sense of movement in the piece. The polished chrome finish pairs well with the stormy-colored glass tabletops. The end tables have a 26-inch diameter and 24-inch height while the coffee table has a 38-inch diameter and 18.25-inch height.
Click here to see this set of end tables on Amazon.
If you want to look more into coffee tables, head on over to this post: What To Put On A Coffee Table [6 GREAT Suggestions]
12. Occasional Contemporary End Table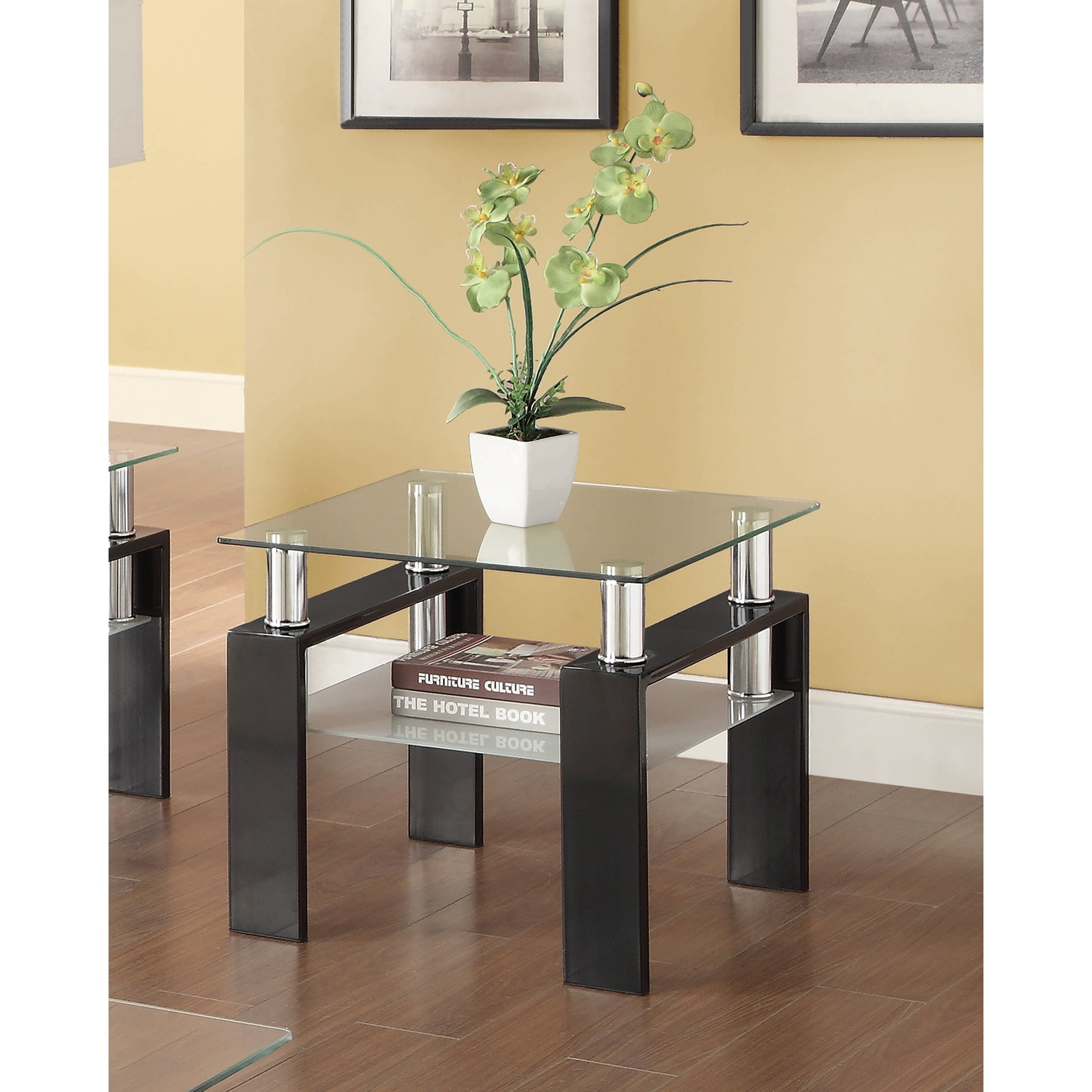 If you want an end table with some unique flair, look no further. This piece features a combination of sleek, modern materials. Its dual layers also provide added functionality. This end table is 22 inches tall, 22 inches long, and 22 inches wide. Its relatively compact size makes it a great option for a variety of spaces.
Click here to see this table on Overstock.
13. S-Shaped Glass End Table
This end table is all about the dramatics of design. You simply cannot miss this one when you walk into the room. The s-shape of this glass end table provides structure and priceless aesthetics. Even better, its glass structure makes it simple to match with other elements in the room. It stands 24 inches tall, 16.5 inches long, and 14.5 inches wide.
Click here to see this end table on Amazon.
14. Hattie Contemporary End Table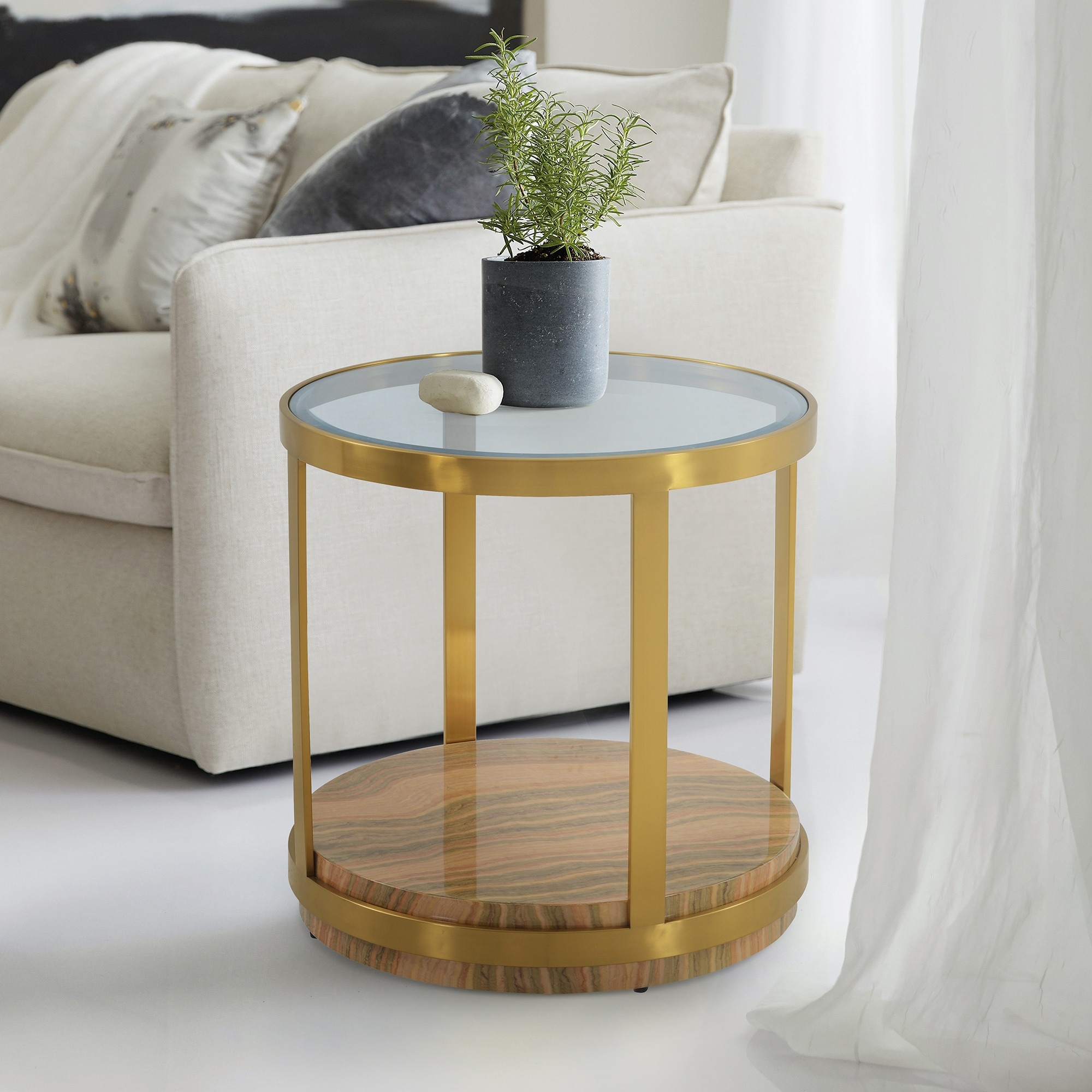 The Hattie contemporary end table features a gorgeous brushed metal gold frame around a glass tabletop and shiny wood-like base. It's chic and elegant, the ultimate addition to any contemporary-style room. Its diameter is 26 inches and it stands 26 inches tall.
Click here to see this end table on Overstock.
15. Kings Brand Metal And Glass End Table
As you know, the contemporary style is all about structure. This end table looks like a piece of art with its minimalist glass tabletop and striking polished chrome structure that holds the piece upright. Function meets style with this piece. It measures 17.75 inches long, 15.75 inches wide, and 23.25 inches tall.
Click here to see this table on Amazon.
In Closing
We hope this guide has helped you narrow your search for the perfect contemporary end table for your needs. We have no doubt that the aesthetic of your space will be boosted by whichever table you choose!
If you want to know more about end tables, you may also enjoy the following:
Where To Place End Tables In Living Room