Living room storage is an essential factor to consider whenever you're designing the space and purchasing furniture. End tables are an excellent way to incorporate both style and function into the room. Whether you have a contemporary, modern, boho, farmhouse, or any other design style, you're sure to find an end table to fit your vision.
To help you out, we pulled together 11 great end tables with storage for you to check out. So without further ado, let's get into it!
1. Derring End Table
This Derring end table is quite daring in its design. The all-over mirror paneling makes this side table stand out in the room design. What's even better, this side table will help your room appear larger as it reflects everything around it. It has three drawers for easy, out-of-sight storage and a nice-sized tabletop for display. It stands 26.25 inches tall, 20 inches wide, and 14 inches deep.
See this Derring Mirrored End Table on Pier1.
2. Basic Modern Side Table
It's not a bad thing to have a simple, classic side table in your living room. This coffee-colored basic side table is rather understated, but it allows you to dress it up as you see fit. Tuck a basket into the bottom shelf or display some fresh florals on the tabletop to add some vibrancy and texture to it. The single drawer allows you to tuck away remotes, coasters, and other small items that end up cluttering the living room. This side table measures 21.85 inches tall, 17.2 inches wide, and 17.2 inches deep.
Check out this basic modern side table on Overstock.
3. Marco Laquer Indigo Side Table

If you love bold colors, then this is the side table for you. The rich indigo color of this furniture piece oozes dramatic flair.
Lucite handles and brass hardware and legs finish off the luxurious look of this side table. Enjoy plenty of storage with the open nook and closed-off shelves with self-shutting doors. This piece measures 26 inches tall, 22 inches wide, and 18 inches deep.
Check out this indigo side table on Overstock.
4. Harvest Home Side Table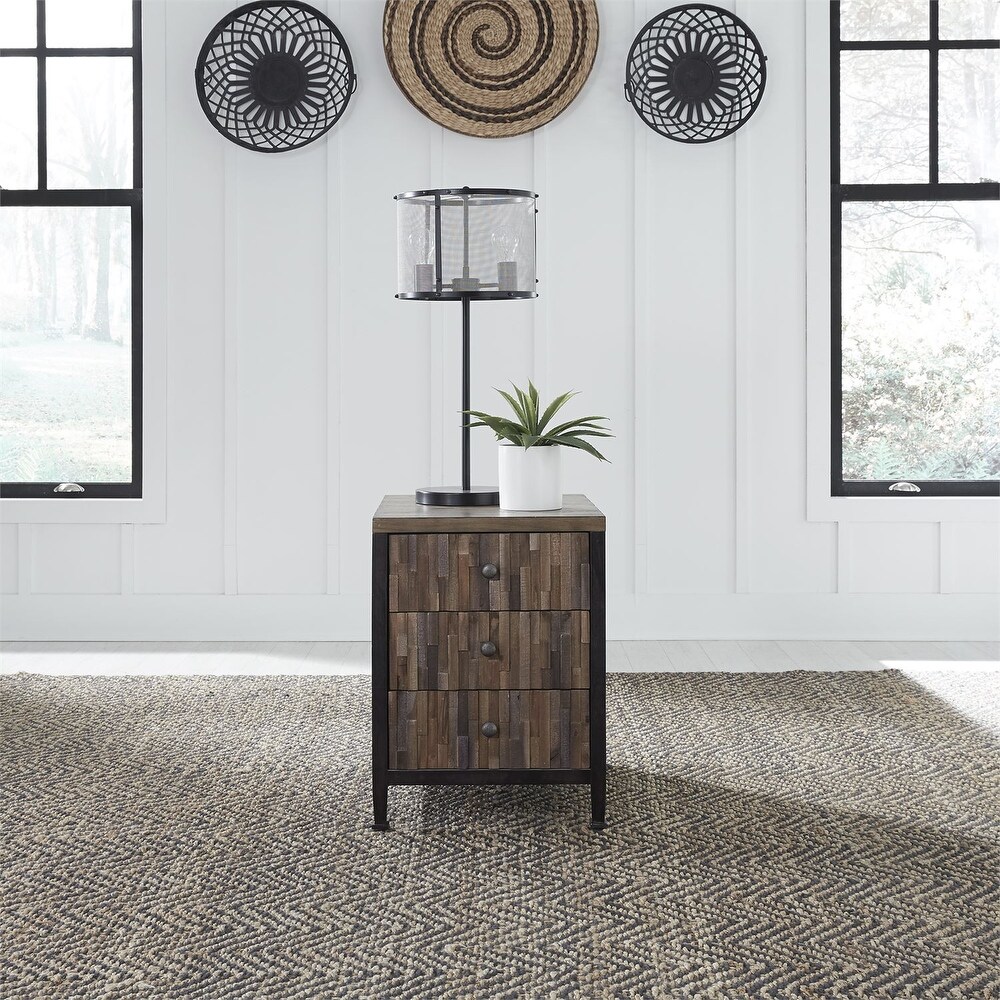 Want a little bit of a rugged farmhouse feel from your side table in the living room? Check out this piece. This 3-drawer side table offers plenty of storage and style. The plank look is made up of knotted white oak veneers in different stain colors to give it its rich, vintage appearance. Antique brass knobs finish it off. Perfect for any size living room, this side table measures 24 inches tall, 18 inches deep, and 24 inches wide.
Click here to see this side table on Overstock.
5. Elle Decor Side Table
Do you like things more on the simple side of things? Not to worry. While this side table isn't fussy, it still packs a nice stylish punch into the room's design. The simplicity of it helps it blend in with any decor style. The side table comes in both black and white. Two drawers are subtle and functional. The piece measures nearly 24 inches tall, 12 inches deep, and 18 inches wide. Click here to see this side table on Overstock.
6. Oblong Side Table
Love the industrial aesthetic?
This oblong side table will certainly speak to you. It features the hallmark components of the industrial aesthetic with its brushed metal legs, wooden tabletop, and mesh hanging magazine rack in the middle. While storage isn't the top attribute in this piece, it makes up for it in its appearance.
The table measures 23 inches tall and 11 inches wide. Its slim profile makes it easy to tuck into virtually any area in the living room.
Click here to see this side table on Pier1.
7. Timeless Black Side Table
Black is a timeless color that looks good on almost anything. A side table is no exception to this rule. It looks classy on its own, but don't be afraid to dress it up with various decorative items. It measures 27.25 inches tall, 11.625 inches wide, and 15.75 inches deep. The two slim doors allow you to store small items with ease.
Click here to see this side table on Pier1.
8. Grooved Door Side Table
This gorgeous side table blends right in with virtually any style.
It's available in a few different finishes, offering even more versatility. The piece features an open storage nook where you can place your treasured coffee table books and a series of shelves that are concealed by a beautiful, slow-close grooved door. It measures 24 inches tall, 15 inches wide, and 18 inches deep.
Click here to see this side table on Pier1.
9. Textured Wood Ashbury Side Table
Do you love the balance of all design elements? You'll adore
this side table. It's a combination of multiple elements, marrying modernity and a retro design. The two natural wood textured drawers nestle in a white frame and the gold legs and hardware complete its look. The top drawer is even felt-lined to keep the contents protected.
It measures 26 inches tall, 24 inches wide, and 16 inches deep. The dimensions are ideal for tucking next to a sofa or accent chair. Click here to see this chic side table at World Market.
10. Nifty Side Table With Storage Shelf
Enjoy all kinds of unique storage with this side table. The Timothy side table has a universal style that will look excellent in any room style you may have. The tabletop is large enough on its own, but there's also a hidden bonus in the table. There's a thin pullout tray for additional storage and convenience as you lounge around.
The side table measures 24 inches tall, 14 inches wide, and 22 inches deep. It's compact yet large enough to fit all your living room side table needs.
Click here to see this side table on Boscov's.
11. U-Shaped Side Table
U-shaped side tables are so in right now, you won't regret adding one to your living room. To make the design even better and beneficial for the living room, this one offers storage with its sleek drawer. While this style is slightly more industrial in nature, it could work in a variety of other aesthetics. Click here to see this side table on Boscov's.
In Closing
We hope that after browsing through these 11 side tables with storage, you've found the perfect one for your living room. Luckily, you do not have to sacrifice form for function; you can have both! As you're thinking about side tables, you may have more questions about them. Check out these related posts that may be of interest to you:
11 Small Side Table Decorating Ideas