The front door is the focal point of your home. It's the point where the eyes of your visitors land as they enter your home. It is literally the portal into your world.
So why should your front door be boring? Dress it up. Make it a fun bright color, then try out one of these super cool decor ideas for the door. Change your decor with the seasons or the holidays, or simply go for a great design that makes people say "wow" when they walk past.
21 Cool Front Decor Ideas
Wreaths
Wreaths are a classic choice to dress up your front door. No longer do you have to wait until the winter holidays to hang a wreath. Wreaths are fashionable year-round and can be as subtle or as wild as you want them to be. Here are a few we think are awesome.
Square Boxwood Wreath
This square artificial boxwood wreath is subtle and a unique shape. It is available in the traditional round shape and in a variety of sizes, but we really loved this one.
Click here to see this on Amazon.
Bright and Tulip-y
Though artificial, these tulips will still make you smile. They are UV resistant so they won't fade and are made to withstand all the elements a front door location can throw at them.
Click here to see this wreath on Amazon.
Lovely Lavender
This purple lavender wreath is absolutely gorgeous on a simple farmhouse door. It's a sweet 15" in diameter and lightweight. It is made of artificial materials that are super easy to clean when needed!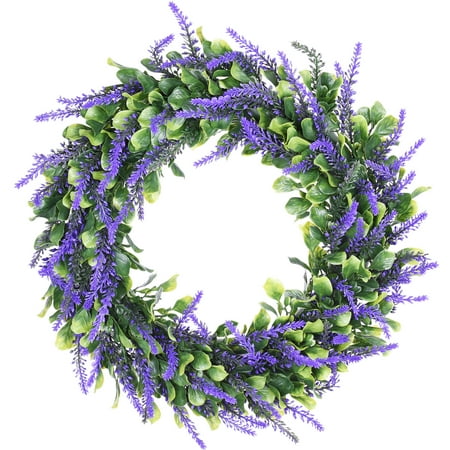 Click here to see this at Walmart.com.
Yellow Forsythia Wreath
This realistic looking round wreath features yellow forsythia flowers on wooden looking stems. The one-color wreath provides a gorgeous subtle tone for your front door and, in turn, greatly increases curb appeal.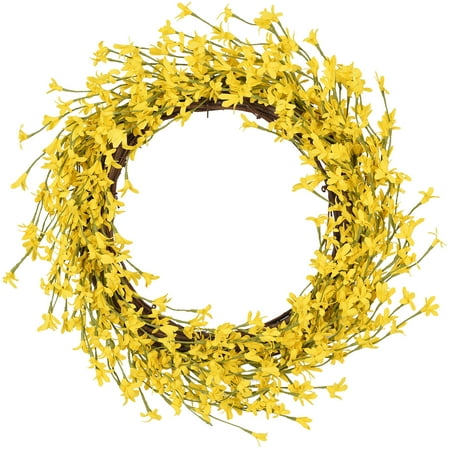 Click here to see this on Walmart.com.
Cotton Wreath
Love the subtle look of natural colors? Then this cotton wreath may be the one for you. It's made from actual cotton stalks and it expands out to 24" in diameter. Because of the natural material, this wreath will do best on a front door that has a covered porch or portico area.
Click here to see this on Amazon.
Wheat Wreath
These amber waves of grain are going to look amazing on any front door. These are real dried and preserved wheat stalks, so they will do best on a front door that's protected from the elements. This one is a gorgeous neutral-toned wreath for any season.
Click here to see this on Amazon.
White Winter Seagrass Coastal Wreath
A line-up of wreaths wouldn't be complete without at least one holiday wreath. This subtle beauty is a spray of coastal seagrass interspersed with pine cones and red berries. Everything except the berries is given a subtle whitewash of paint.
Click here to see this on Amazon.
Garlands And Lights
Garlands and lights don't have to be just for the holidays. They frame your door beautifully at any time of year. Garlands bring a bit of nature to your front porch, and lights twinkle greetings at night. Both look awesome and we've found some we hope you like, too.
Ivy Garland
Love the look of English Ivy but don't want the real thing infiltrating your foundation and walls? Here's a way to have beautiful ivy without the risk that comes with an invasive plant. This faux ivy garland comes in a pack of two 6.5' pieces. We suggest you order two packs to make sure you have enough for all three sides of your front door.
Click here to see this on Amazon
Glittery Berry Garland
If you want a little bling for the front door, consider this flexible glittery garland of berries. This one is in rose gold but it's available in eleven different colors including gold, pewter, lime green, and blue to name a few of them. It comes in 6' lengths and is on twisted wire, making it easy to shape and hang.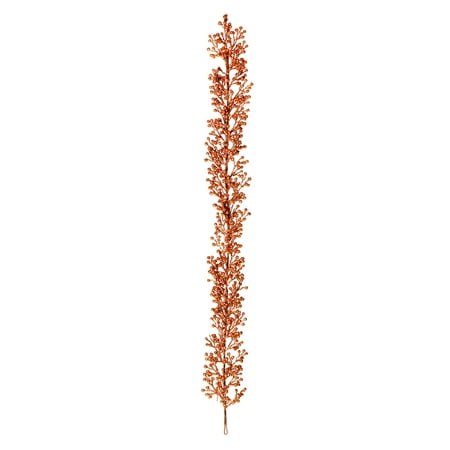 Click here to see this on Walmart.com
Sunflower Garland
Hello springtime! This strand of artificial sunflowers will brighten any front porch with a warm welcome. Each package comes with four 7.5' garlands which should be plenty for most front doors.
Click here to see this on Amazon.
Fairy Strand Lights
These awesome LED light strands come in 8' lengths with over 400 twinkly fairy lights per strand. It's a way to make your front door magical at night. They're energy-efficient and come with a 9' cord for a convenient plug-in. Here they're shown in gold lights with gold wire, but they come in several other color combinations.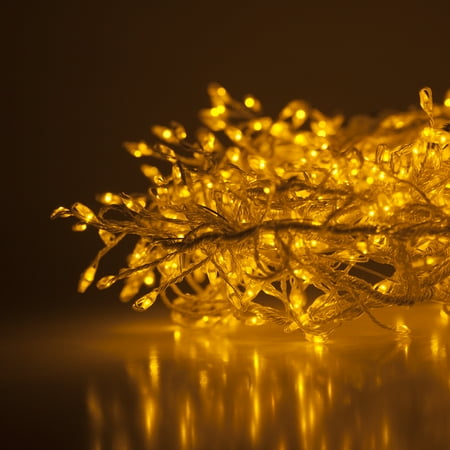 Click here to see this at Walmart.com
Color Changing Globe Lights
These round globe lights come on a strand 16.4' long with 50 different bubble lights. It has 16 fabulous colors that you can adjust with a remote control. You can set a timer as well for the length of time you want the lights to flash.
Click here to see these on Amazon.
Greetings And Salutations
Why not decorate your front door with a message for those who approach it? We've got a nice lineup of signs for your front door.
A Beachy Hello
Want something for your coastal-themed home? Check out this adorable plaque complete with a 3D sailboat, starfish, and ship's wheel. It hangs from a nautical rope!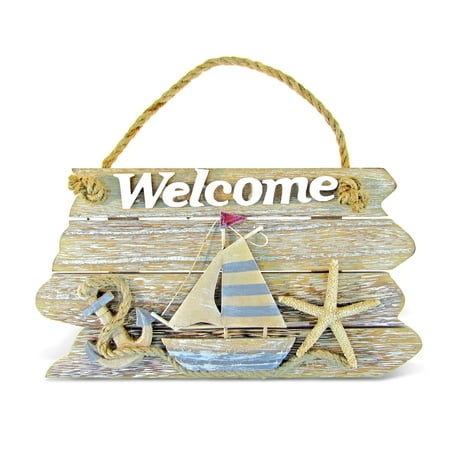 Click here to see this at Walmart.com
Vinyl Welcome Decal
This cursive vinyl welcome decal is the perfect hello. And because it can be affixed, and easily removed, from your front door, it works well in conjunction with a wreath or other door decoration.
Click here to see this on Amazon.
Wooden Hello Sign For Wreath
This cut-out "hello" on a wooden arrow is a great piece to use in conjunction with a door wreath. It comes unfinished, but can easily be painted or stained for your choice of color. This is not the wreath, just the words.
Click here to see this on Amazon.
Butterflies And Flowers Metal Welcome Sign
This bright cheery sign is the perfect pick-me-up for approaching spring. A colorful collection of daisies and butterflies dance across this metal-fabricated iron front door sign. The banner across the top says "Welcome" in a cheery font. The overall size of this piece is about 16.5" tall and 12" wide.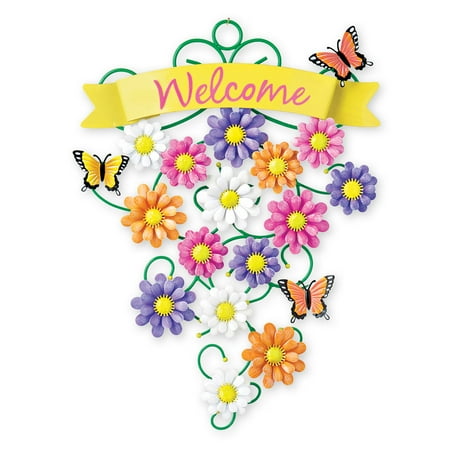 You can see it at Walmart.com.
Other Door Decor Ideas
Door Mural
Maybe at the end of a long day, you don't want to walk into the chaos of your house that needs cleaning. Hang up this mural of sunset and dock, close your eyes, and pretend that you're stepping into a vacation paradise. It will fit any door 36" x 80" or smaller and is made of a heavy-duty vinyl that comes rolled and without creases.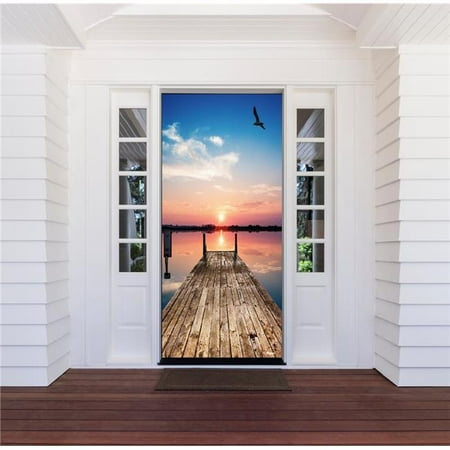 Click here to see this on Walmart.com
Fabric Pineapple
Everybody loves a cute pineapple. So why not hang one on your door? This cute decoration is made of fade-resistant fabric for a long-lasting design statement for your entryway.
Click here to see this on Amazon.
Steel Monogram
This amazing oiled steel custom-made monogram plaque which includes the last initial of a surname and the entire last name is the absolutely perfect house-warming gift. Hung on the front door, it not only looks fantastic but boldly states who lives inside. It's approximately 20" high but the width varies depending on letter and name chosen.
Click here to see this on Amazon.
For The Dog Lover
This cute plaque in three parts is an awesome piece of door decoration for the dog lover. A paw, a heart, and a bone, in festive red, white, and blue are emblazoned with the saying "Live, Love, Bark", though your dog may do just that when a visitor rings the doorbell!
Click here to see this on Amazon.
Patriotic Metal Star
Whether it's the 4th of July or you're just feeling patriotic, this large metal star is crafted to have an Americana feel to it. Its 3D construction gives it a special something, and it's available in a number of sizes so you can hang one or two large ones (depending on if you have a single or double front door) or hang a small cluster of stars.
Click here to see this on Amazon.
Door Decor Questions
Now that you've gotten some great ideas of fun things you can use for door decor, we've got answers to some frequently asked questions about the best way to hang things and other helpful hints. Read below for some of the answers to those questions.
How Do You Hang A Wreath On A Door Without Nails?
The best way to hang a wreath on your door without nails is to hang it from the inside. Using a long ribbon or wire, loop the wreath with enough hanging material for it to go over your door to the inside. Near the top of the inside of your door, hang a self-adhesive hook, like a Command hook, upside down. Hook the ends of your wire or ribbon to this hook. There will be some ribbon or line that goes from your wreath, over the top of your door, and hooks on the interior of your front door.
Another option is to buy a wreath hanger that slips over your front door. Be sure to get one that is adjustable so you can have the perfect hanging height for your wreath. However, these can sometimes create bulk and may stop your door from shutting properly.
What Length Garland Do I Need For My Front Door?
The average length for a front door garland is about twenty feet. You'll need to measure the height and width of your front door. Take two times the height, add the width, and add three to five extra feet for extra drape and a bit of pooling at the sides.
How Do You Hang Garland On A Door Without Nails?
Command hooks are always a great choice for hanging things without nails. When hanging outdoors and hanging heavy garland, you might want to choose the heavier weight utility hooks and use a bit of wire to attach the garland to the hooks.
Click here to see these on Amazon.
If you have a brick home, you will be better off purchasing some brick clips which connect into the mortar. These won't damage the surface of your house and will allow you to hang your garland using a bit of wire to attach the greenery to the hooks.
Click here to see these on Amazon.
How Do You Hang Lights On A Door?
Command Hooks makes a fantastic light clip. They're clear, unobtrusive, and best of all, they don't damage the surface of your door or the door frame. The wire slides into the hooks and the whole thing is a very clean and neat look.
Click here to see these on Amazon.
How Can I Decorate The Front Door Of My Apartment?
If you're not a homeowner and live in an apartment, you might be wondering if you can decorate your front door. Painting the door likely won't be an option for you, but with all of the non-damaging hooks available, there's no reason not to take any of these great items and make them work for your apartment, too.
If your apartment has a door that opens to an interior hallway, then your world opens up even more because you're not limited to weather-resistant materials. There are so many fun paper streamers, like these balloon streamers, that you can tape to your door and not worry about the rain ruining them.
Click here to see these on Amazon.
We hope these products have inspired some great ideas for your own front door design. If you'd like to see some other similar posts, then check these out -
12 Unique Gothic Door Knockers