If your dad spends a lot of time at his office, one of the best ways to express your love and appreciation for him is with a unique gift for the space. Regardless of the occasion, Dad will certainly love a gift that will make his office more functional and visually appealing.
Whether your dad's office is at home or elsewhere, he'll appreciate a gift that shows how much you care. The following 13 items are sure to let your dad know that you're thinking of him. So, without further ado, let's get shopping!
1. Wooden Docking Station
This wooden docking station is perfect for a desktop. Gone are the days of a disorganized and maybe even messy desk. This docking station has a unique versatile design and is the perfect solution for keeping things neat and orderly.
The premium wooden organizer comes in 3 pieces. It's ideal for holding a smartphone, a tablet, a wallet, a set of keys, a pair of glasses, a watch, some business cards, and even a few pens or pencils. Help your dad perfectly accessorize his desk!
Click here to see more on Amazon.
2. Revolver Cylinder Pen Holder And Paperweight
Is your dad the ultimate outdoorsman or firearm enthusiast and collector? If so, this is the perfect gift for him to place on his desk. This paperweight and pen holder has the shape of a revolver's cylinder. Choose from either silver or black models.
It has the capacity to hold up to 6 pens at one time, a real 6-shooter! The pen holder measures 3.6 inches tall and 2.7 inches wide. The width of each pen holder is .75 inches, so it can hold any standard sized pen.
Click here to see more on Amazon.
3. Best Dad Dundie Award
If your dad is a big fan of the show The Office, you couldn't find a better gift for his office. This is a "Best Dad" Dundie Award, modeled after similar awards given out in the show. The Dundie Awards were given out annually to boost office morale.
This trophy is sure to get a good chuckle from your dad, and he'll proudly display it on his desk. The Dundie Award measures 7 inches tall.
Click here to see more on Amazon.
4. Multi-Tool Pen Set
Pens are neat and all, but turning them into multi-tools makes them that much better, especially for Dad. This set comes with 2 pens. Each pen has 8 combined features including a very bright LED light, a stylus top, standard and metric rulers, a bubble leveler, a bottle opener, a flathead screwdriver, and a Phillips screwdriver, and, of course, a ballpoint pen.
Whatever menial tasks your dad needs to accomplish, these pens are sure to come in handy.
Click here to see more on Amazon.
5. "You Are The Superhero" Keepsake
If you want to give a gift with a little bit more sentimental weight, this is the perfect one. The clear acrylic says "To the world you may be just a dad, but to our family you are the superhero." Dads truly are superheroes, so make sure to let him know with this tabletop keepsake! The plaque measures 4 inches by 4 inches by 1 inch.
Click here to see more on Amazon.
6. Personalized Business Card Holder
A personalized cardholder is a great desk companion. The name is professionally engraved with a 100W laser engraver then filled with a gold filament. Talk about elegance! The holder also has a clockface nestled into the block next to the scripted name.
The business card and pen holder measures 6.5 inches long, 2 inches tall, and 1.75 inches deep. The rosewood comes in two different colors. You can also have a symbol of a profession engraved next to the name.
Click here to see more on Amazon.
7. Golf Pens With Golf Bag Holder
This is such an amazing novelty gift for the golf-loving dad in your life. The set includes a miniature golf bag, 3 pens, and a plastic green lawn. The bag is super realistic and is made out of a zinc alloy and high-quality PU leather. The wheels on the cart even work so you can move it about! The bag comes in 5 different color options.
The three golf club pens include a driver (with red ink), a putter (with blue ink), and a wedge (with black ink). Each club pen measures 15 centimeters long.
Click here to see more on Amazon.
8. "Dad's Office" Sign
Make sure your dad's office is clearly labeled with the help of this sign. It will inform others that when the door is shut, Dad is left to be undisturbed. The sign measures 10 inches long and 5 inches tall and is hung by a rope. It's crafted from durable PVC to keep it in great condition for years to come.
Click here to see more on Amazon.
9. Coffee Mug And Warmer Set
A cup of coffee (or two or three) is an absolute necessity when it comes to the average workday. This coffee mug warmer is perfect for keeping his coffee warm all day long. The stainless steel warmer features upgraded touch controls, an LED display, and a water-resistant plate.
The 17-ounce stainless steel mug has a cool to the touch handle and a nice silicone slip-resistant sleeve to keep his hands protected.
Click here to see more on Amazon.
10. MLB Desk Caddy
This is the perfect desk caddy for the MLB-loving dad. You can pick the helmet from 20 MLB team options to ensure your dad is supporting his team. The miniature helmet design is the perfect replica of the real thing and is the ideal size for sitting on the desk. Store a collection of pens, pencils, business cards, and other desk necessities in the helmet-top holder.
Click here to see more on Amazon.
11. "Best Dad Ever" Coffee Mug
Your dad will have no doubt about the way you feel about him after giving him this mug. What says "Best Dad Ever" better than those literal words? The 11-ounce ceramic coffee mug will quickly become his favorite mug to use, and he'll carry it around proudly. This mug is microwave and top-rack dishwasher safe.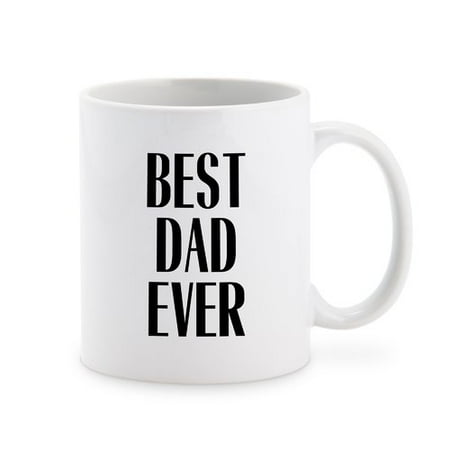 Click here to see more on Walmart.com.
12. Personalized Picture Frame
A personalized picture frame lets your dad know of your love for him and the reasons you appreciate him. The picture frame features the poem titled "Daddy, Hold My Hand" in scripted font next to a slot to place a 4 by 6 photo. By the time your dad finishes reading the poem, there may even be tears in his eyes. The bottom two lines can be personalized so that you can sign your name with love.
The entire frame measures 8 inches by 10 inches and has an easel back for easy tabletop display.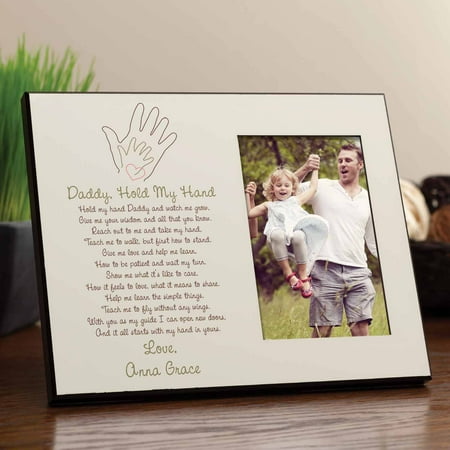 Click here to see more on Walmart.com.
13. The Office Show "World's Best Boss" Coffee Mug
Boost your dad's office ego by gifting him this coffee mug that says "World's Best Boss." This exact mug is used frequently by one of the leading characters, Micahel Scott, on the show The Office. The 11-ounce mug is crafted from durable ceramic and is even top-rack dishwasher safe.
Whether or not your dad is a fan of the show The Office, he'll certainly be a fan of this mug.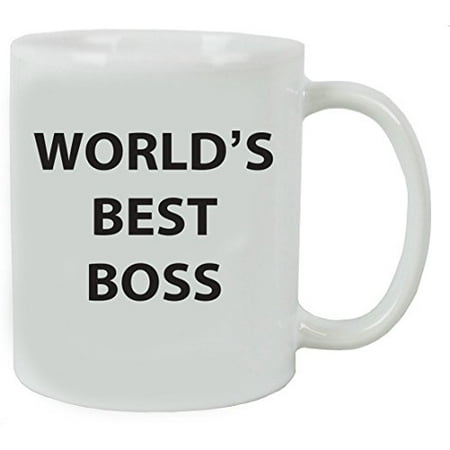 Click here to see more on Walmart.com.
Let us know in the comment section below which item you decide to gift to your dad! Before you go, make sure to check out these other excellent home decor guides:
25 Wall Decor Ideas For Your Home Office