Now more than ever, our offices are our personal space. Whether your mom's office is at home or away from home, there are things we can do to make it feel a bit more special. Little gifts from you will let her know that even when she's nose deep in end-of-month reports or client notes, you're with her. Each of these gifts was handpicked by our team here at HomeDecorBliss to help make your moment of gift-giving memorable. Let's take a look at these eleven items so you can decide which one is the best fit for your favorite mom.
1. Poncho For The Cold Office
Is your mom often complaining about the cold a/c at her office? Let her know you've heard her with this great cozy poncho. She can keep it in a desk drawer, and then when she gets cold, she can pull it out and cozy up in it without having to pull it on over her hair. This poncho is snuggly soft polyester, which is easily washed. It's available as shown here in ivory, but it's also available in black, grey, and tan.
Click here to see this on Amazon.
2. Moments For Moms Flip Calendar
Give your hard-working mom some inspiration with this "moments for moms" flip calendar. Each page holds a new inspirational quote that will make her smile and take her away from the office and back to her family. Three hundred sixty-six pages of spiritual and inspirational quotes are set in a spiral-bound calendar that comes with its own built-in easel. She can use this year after year and revisit her favorite quotes when she needs them.
Click here to see this on Amazon.
3. Favorite Child Coffee Mug
Want to one-up your sibling with a hilarious gift for mom? This coffee mug should do it. It boldly proclaims that you love her more than your sibling does and is even signed with a cheeky, "Your favorite." Guaranteed to put a smile on mom's face and a "heyyyyyy" from your sibling when it's unwrapped.
Click here to see this machine-washable mug on Amazon.
4. Boss Lady Travel Mug
Your favorite mom is out the door with the sun, and what better way to send her off than with a tall cup of her favorite beverage in a spot-on travel mug. This light pink travel mug is inscribed with the cursive saying, "Boss Lady." It keeps cold liquids cold for 16 hours and hot liquids hot for 12 hours. This is hand-washable and non-microwavable, so be aware when purchasing and giving that your favorite mom knows it needs a quick rinse but not the dishwasher.
Click here to see this on Amazon.
5. Mouse Pad For Mom
This cute mouse pad lets mom know that you know how essential her role is to the family. You don't get the nickname "Chaos Coordinator" without good reason, and being a working mom is undoubtedly a good one. This mouse pad has a rubber base to keep it from moving around and a silky printed fabric top to make the mouse movement easy. It's 9.5" x 8" and is easily cleaned with a damp cloth.
Click here to see this on Amazon.
6. Owl Eyeglass Holder And Pen Cup
Your mom is the wisest, but even wise owls sometimes need to slip their glasses off. This adorable mango wood holder is designed so that folded glasses can slip right over the tufts of the owl's head and appear as if the owl is wearing the glasses. The square container is hand-carved and rustic in appearance. The overall size is approx. 5" tall by 3" by 3". The owl is a symbol of a long life, happy family life, wisdom, and knowledge.
Click here to see this on Amazon.
7. Personalized Leather Note Taking Journal
Here's a personalized leatherette journal for your mom. Great for note-taking or doodling or writing down bursts of inspiration, this journal is such a thoughtful gift. The size is 5" x 8" filled with lined paper and is easy to slip into a purse or briefcase. The personalization is laser engraved and fully customizable on lines 2 & 3, with up to 30 characters allowed.
Click here to see this journal on Amazon.
8. Portable Neck Massager To Help Soothe Mom's Stress
Stress gets to everyone from time to time, but for working moms, it may come from every angle. Show her you want her life stress-free by gifting this wonderful portable neck massager. It's heated, has three massage modes, and 15 different kneading strengths for whatever mom's muscles may need. It's a skin-friendly silicone material that won't press against you. It's powered with a large capacity battery that can be charged up with a USB cord. It also has an auto-off function after 15 minutes of use in case it puts my mom to sleep with its soothing feeling.
Click here to see this on Amazon.
9. Address Book With Vintage Floral Cover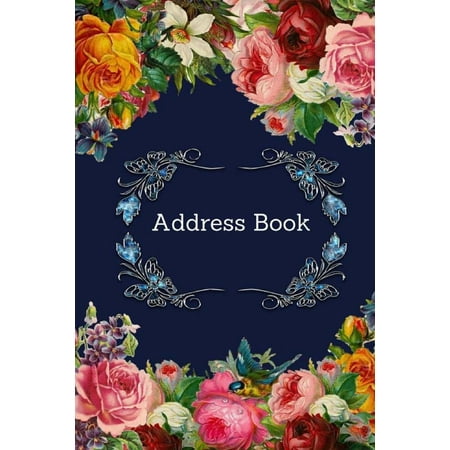 Sometimes it's great to have an old-fashioned paper and pen address book to mark down all of your favorite contacts. This handy little book is not only a practical gift but a pretty gift. The cover has a vintage feel with its deep navy background and borders of flowers. Each page holds five contacts' information, and there are 120 pages in all. The book's dimensions are 9" x 5".
Click here to see this at Walmart.com.
10. Elegant Frame And Alarm Clock Duo
This gorgeous silver-plated alarm clock and frame duo will look stunning on mom's desk. On one side is a photo frame to hold a picture of the family and, on the other, a classical alarm clock. This small desk piece measures 4.5" x 6.5" x 2" deep and comes in a handy gift box.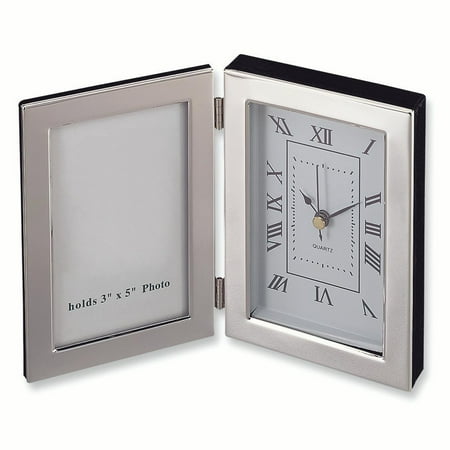 Click here to see this elegant gift at Walmart.com.
11. LED Pink Floral Inspirational Essential Oil Diffuser
Adorned with a lovely pink floral design, frosted glass finish, and a sentimental phrase, this adorable essential oil air diffuser is the perfect gift for your mom! It is designed to help her release some stress after a busy workday. Mom is sure to appreciate such a thoughtful gift.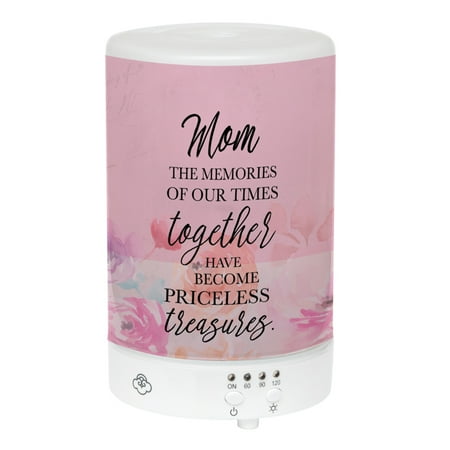 Click here to see this at Walmart.com.
Whether your mom's home is her office or her office is away from home, something on this list is bound to make her know she's the president of your heart and thoughts.
If you enjoyed this post, please check out these other posts we think you might enjoy here at HomeDecorBliss.com below:
25 Wall Decor Ideas For Your Home Office