A home office is a significant space for someone that works from home. One of the best ways to show your care for someone is with a unique gift that will spruce up their home office. No matter the occasion, a home office gift will speak volumes. Whether it's to help with organization and daily tasks or to bring some decor to the room, it's sure to be appreciated.
To help you in your search for the perfect home office gift for a special person in your life, we created a list of some great options. Follow along to discover 13 amazing gift ideas for someone with a home office!
1. Elephant-Shaped Pen And Phone Holder
This elephant is crafted from high-quality resin and ready for its multipurpose use. The cute, stylish elephant can fit an assortment of desktop necessities like pens, pencils, and scissors and serve as a phone mount. It's perfect if you want to keep your phone close by and be able to see notifications pop up on the screen. The elephant measures 4 inches tall, 6.3 inches long, and just over 2 inches wide.
Click here to see more on Amazon.
2. Coffee Mug Warmer
Drinking coffee while working is a definite necessity. Working from home is no exception to this. This coffee mug warmer will be a game-changer for the office. There are two different heat settings: low and high. The heating technology ensures that the mug will receive continuous, even heat. To make sure the mug receives the full heat, use a flat-bottomed mug.
It automatically turns off in 2 hours as a precaution if you accidentally left it on and walked away. Its size is compact so it won't be too obtrusive on the desk.
Click here to see more on Amazon.
3. Desk Organizer Set
Organization goes a long way in the office. It will help you stay orderly and make sure you have everything you need accessible. This 5-piece set includes a pencil cup holder, letter sorter, letter tray, hanging file organizer, and a sticky note holder. With the help of these items, the desk will be very tidy.
The organization pieces are crafted from durable metal with a gorgeous rosegold color finish. The rounded edges prevent snagging and tearing.
Click here to see more on Amazon.
4. Knight Pen Holder
If your friend loves novelty items, this knight pen holder will be perfect. It's funny yet functional, too. The knight is kneeling to present an ever-important item for working: the pen. A blank ink pen is included. There are three knight color options: silver, bronze, and dark gray. With any color you pick, you can't go wrong.
The knight pen holder measures 6 inches tall, 3.8 inches wide, and 5.3 inches long. It's small enough to not clutter the desktop, but large enough to be noticed.
Click here to see more on Amazon.
5. Funny Novelty Mug
This mug is sure to get a laugh. The white ceramic mug has the words "Day drinking from a mug to keep things professional" printed across both sides of the mug. Since the words are printed on both sides, the quote can't be missed. Luckily, since they'll be working from home, they won't get found out. This mug has an 11-ounce capacity.
Click here to see more on Amazon.
6. Aromatic Waterfall Incense Burner
Work can easily contribute to someone's stress. This aromatic waterfall incense burner may be just the right remedy to help ease stress. As the incense burns, the smoke will dribble down the side of the burner, creating a waterfall-effect. It's simply mesmerizing.
The ceramic has a rich color with blues, blacks, and browns as well as a beautifully crafted glaze. There are even a few styles to choose from, so you know you can find just the right shape.
Click here to see more on Amazon.
7. Inspirational Wall Art Posters
Inspirational wall art posters are there for encouragement! The quotes printed on each poster are inspiring and challenging. They're perfect for when your friend starts to feel discouraged because they can look to their inspirational posters to pick themselves back up and get on track.
Each poster measures 8 inches by 10 inches. They're unframed for ultimate customization. They can be put into frames or left without one. The 6 posters can be arranged in any way on the wall, too.
Click here to see more on Amazon.
8. Mini Fridge
A mini-fridge is the perfect gift for practically anyone! This will eliminate the need to walk back and forth to and from the kitchen fridge all day. Having it right at the desk provides ultimate convenience. The compact size fits 12 12-ounce cans in it! It even has 2 temperature modes: cool and warm.
The internal dimensions are 8.26 inches wide, 6.22 inches deep, and 9.96 inches high. Pick from two colors: white or blue. There are two plugs included, fitting both the standard wall outlet and a 12V outlet in vehicles.
Click here to see more on Amazon.
9. Watercolor Office Sign
Wall decor is a great addition to any room. This watercolor office sign has the script "office sweet office" printed in a vibrant watercolor style. The vibrancy is very eye-catching, making it the perfect accent piece. The print measures 8 inches by 10 inches and will fit in any standard frame of that size.
Click here to see more on Amazon.
10. Desk Pad
A desk pad may be an overlooked item, but it definitely comes in handy. This mat is made from durable PU leather material, ensuring the desk is protected from any sort of stains, scratches, heat, and spills. The smooth surface from the mat makes writing and typing easier.
There are 6 colors from which you can choose: dark blue, light blue, black, brown, pink, and purple. The color diversity guarantees you'll find the perfect color to gift. You can also pick from 2 sizes.
Click here to see more on Amazon.
11. Canvas Wall Decor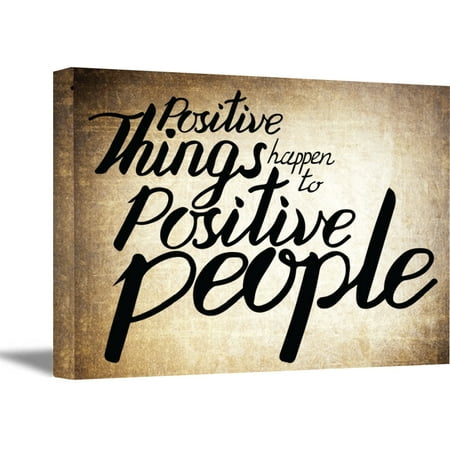 Gift some positive thinking canvas wall decor. This canvas print has the quote "positive things happen to positive people" printed onto it. There are even 7 different size options from which you can choose: the smallest measures 8 inches by 10 inches while the largest measures 32 inches by 40 inches.
Click here to see more on Walmart.com.
12. Mahogany Desk Clock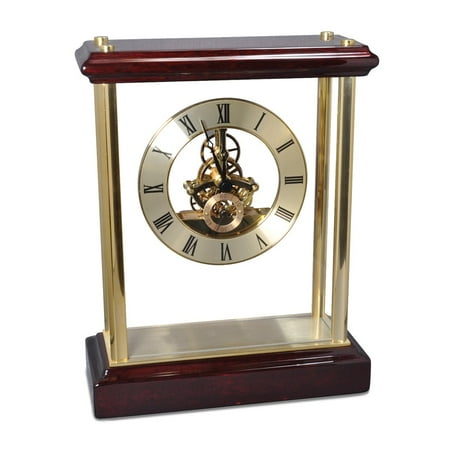 Upgrade the home office desk in an instant with the addition of this gorgeous mahogany desk clock. The whole piece measures 11 inches tall, 8 inches long, and 5 inches wide. It will sit wonderfully on the desk and truly upgrade the space. The brushed gold components of the clock help elevate its overall aesthetic. This clock will bring both function and allure.
Click here to see more on Walmart.com.
13. Professional Padfolio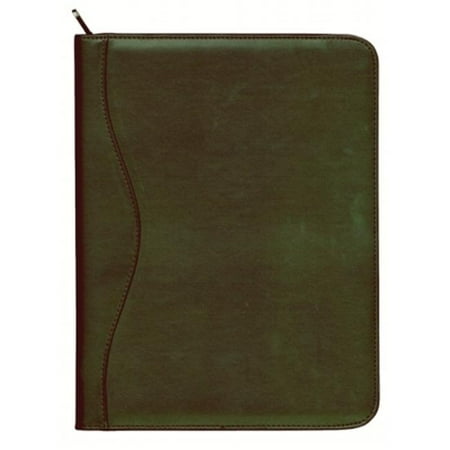 No desk is complete without a professional padfolio. A padfolio is use to store and protect documents and other office essentials. Comes in a classic and professional design that measures 13.50 inches tall, 10.50 inches wide, and 1.00 inches deep. It's a perfect gift for someone with a home office.
Click here to see more on Walmart.com.
We hope you found the perfect gift for that person in your life that works from home! Before you go, make sure to check out these other home decor guides:
25 Wall Decor Ideas For Your Home Office