The scene is set. A long walk up a stone path. You climb the steps of the gothic mansion and reach out for the heavy iron door knocker. A gargoyle looks back at you. What will happen when you knock? Will a beast answer the door? It doesn't matter, all you know is you want an incredible gothic door knocker for your own door.
If you can't live in a castle, at least you can have every visitor get swept away in a moment of fantasy as they reach to knock on your door. Gothic door knockers are heavy, often iron, and give a historical feeling to a front door. We've found some great ones that will turn your entryway into something cinematic.
Turn Your Home Into A Castle With A Gothic Door Knocker
A Hanging Bat Gothic Door Knocker
The count is sleeping until the door is knocked. This hanging bat, with wings folded like a cloak, will invoke Transylvania daydreams at your front door. The knocker is made of solid cast iron and has an antiqued bronze finish. It weighs in at a solid-feeling one pound that has all of the substance you'd expect from an artisan-made piece.
Click here to see this on Amazon.
Release The Kraken When You Knock On This Door Knocker
A creature from the deepest depths of the ocean greets your visitor. Tired of political campaigners and salespeople knocking on your door? Release the Kraken. The upper part of the knocker is made of cast resin that has been bronzed to an antique finish. The knocker ring is made of cast iron. It's approx. 5" wide by 8" tall.
Click here to see this knocker on Amazon.
Subtle Gothic Door Knocker
Looking for something that gives the feel of a gothic castle, but you aren't really into monsters and gargoyles? This simple heavy ring door knocker has the considerable heft and detail of gothic architectural elements without the drama of representational figures. This solid brass knocker has a bronzed finish, and the ring is a hefty 1 3/4" thick in diameter.
Click here to see this on Amazon.
Esschert Design Cast Iron Door Knocker
This decorative nature-inspired design is both intricate and chunky. Can you imagine the vines growing around the Gothic castle door where this once hung? Now you can hang it on your door as well. Cast out of iron and finished in a brown patina, this knocker measures approximately 5" x 7.5".
Click here to see it on Amazon.
Classic Lion's Head Door Knocker
This classic gothic staple is a magnificent lion's head holding the knocker ring in its mouth. It's cast iron with a rust-resistant finish to make it last for years at your front door. It comes with the mounting hardware and can be used on any door up to 2 1/4" thick.
Click here to see this on Amazon.
The Greenman Iron Door Knocker
Based on Emesh, the Greenman, who was a nature spirit in pagan history, this figure was frequently found on cathedrals, abbeys, and churches during medieval times. Now you can have Emesh greet your visitors in the modern era. This is a large door knocker at 17" long and 9" wide with a 3" depth. It will really make a statement at your entrance. You might even have to use two hands to knock the door!
Click here to see this Amazon.
A Smaller Version Of The Woodsman Door Knocker
Here's a smaller and more stylized version of our wild woodsman or Greenman. This one is 10" wide and about 7" tall. It's made of sturdy cast iron and antiqued to a beautiful patina. Each piece is individually finished by fine artisans making it a unique piece of hardware for your door. It will be the first thing your guests talk about when you let them inside.
Click here to see this on Amazon.
Inspired By Catacombs At Your Front Door
Spooky and creepy and oh, so inviting. This cast iron door knocker takes the bones of Parisian catacombs and brings them to your door. Your friends will know to knock, but it may just keep strangers well away. Want to make a curious statement? Why not hang this creepy skull with jawbone knocker and see what comes from it. This piece is approximately 5.5" wide x 9" high.
You can click here to see this on Amazon.
Gargoyle Door Knocker
This jaunty gargoyle or dragon door knocker is on the friendlier side of fierce. His hand on hips position raises out from your door to welcome visitors. Seven inches tall, this door knocker is made of cast resin and is lightweight for the door.
Click here to see this on Amazon.
Gothic Dragon Door Knocker
Dragons are the king of mythological creatures and fill our minds with images of fire and dragon-slaying knights. You'll make an fantastic gothic statement when you hang this show stopper on your front door. The dragon's realistic face and eyes seem to stare into your very soul as you reach to knock the cast iron ring against the door.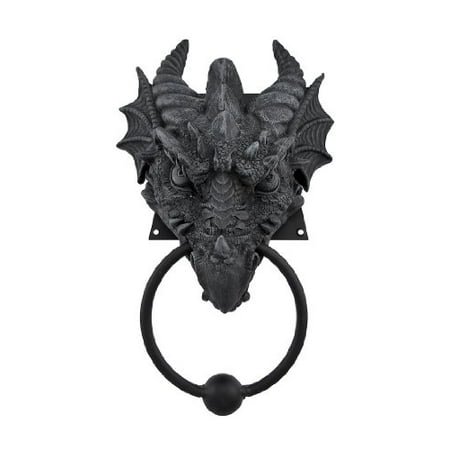 Click here to see this door knocker at Walmart.com.
Green Gothic One Foot Tall Woodsman Door Knocker
Our spritely woodsman is back again in this massive door knocker. It's over 13" tall and about 7" wide. Covered in a rich glowing green patina, it will make you think you're going to knock and travel to Narnia or Middle Earth. This is hand-crafted and solid artisan-crafted cast iron and a real statement piece.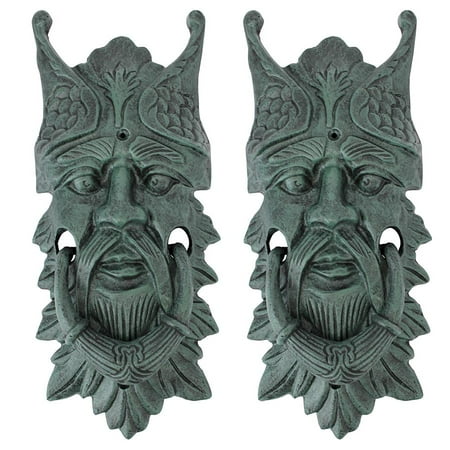 Click here to see this door knocker on Walmart.com.
Full Moon Werewolf Gothic Door Knocker
You'll be howling at the moon when you receive this amazing werewolf-inspired door knocker. This sharp-eyed wolf watches you carefully as you reach for the ring it holds in its mouth for the knocker. This piece is a lightweight cast resin though the ball and knocker are iron. It measures approximately 8" tall x 4" wide.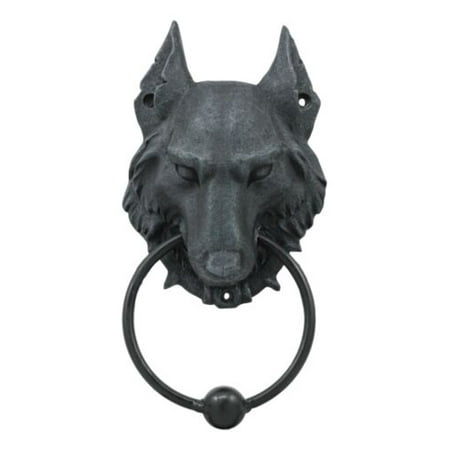 Click here to see this door knocker on Walmart.com.
Gothic architecture is inspirational and spanned four centuries. It's no wonder we still love these details today. If you enjoyed this post, please check out these others here on HomeDecorBliss.com.
Victorian-Style Bathroom Accessories (Inspiration and Shopping Links)