With Halloween just around the corner, it's time to start planning your front porch decor! Everyone (but mainly the costumed trick-or-treaters) will enjoy your festive Halloween porch decor. Decorating for holidays adds the right amount of festivity to your home. And since Halloween is a holiday that tons of people love to celebrate, it's the perfect occasion to bring out some unique decor.
Whether you like using only a small number of decorations or you go all out, you're sure to find something you'll love on this list. And regardless of whether you adore all things ghosts, ghouls, and goblins or prefer a more conservative approach to the holiday, you're guaranteed to find suitable porch decor.
Keep reading to discover 13 spooky and totally spectacular Halloween decorations that will make your porch the creepiest one on the street! Happy Halloween!
1. Design Toscano Mummy Statue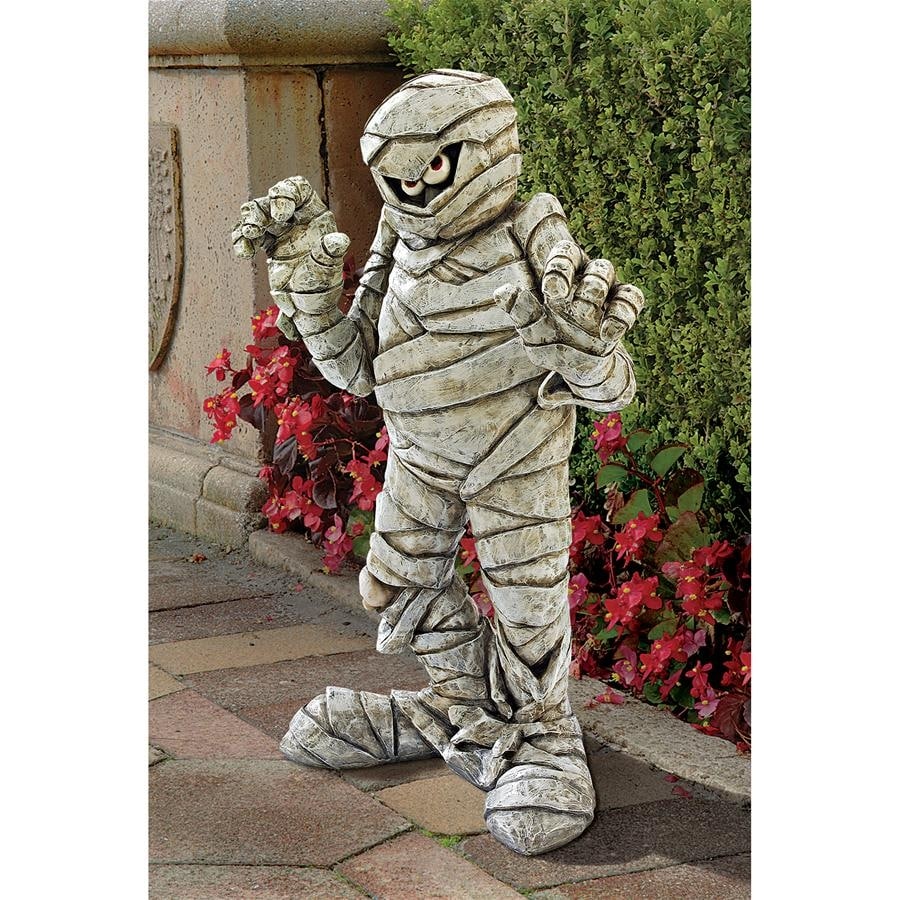 Bring some undead features to your front porch with the help of this macabre mummy. What's more, this little guy stands almost two feet tall — the perfect size to send a shiver up the spines of your trick-or-treaters without taking up too much space on your porch. This mummy is cast in resin and has hand-painted, realistic details.
Click here to see this mummy statue on Overstock.
2. Witch Parking Upright Sign
Get your hocus pocus on and head over to HomeGoods or TJMaxx to see if you can snag one of these witchy parking signs. The sign is made of solid wood, stands steady, and measures just over 5 feet tall. Your friends will be sure to drop off their brooms before heading inside.
3. Happy Halloween Door Sign
Certain decor pieces are considered classics for good reason — they have a timeless quality that isn't going anywhere. A simple sign like this one is a good way to give your home a Halloween vibe. And this particular sign certainly fits the bill. This Happy Halloween sign sits perfectly up against your front door and stands 5 feet tall.
Check out this porch sign on Michaels.
4. Personalizable Jack-O'-Lantern Spider Web House Flag
Front porch flags serve as excellent statement pieces. They don't require much space at all, but they do a lot to bring some Halloween spirit to your home. What's even better is that you can personalize this Jack-o'-lantern flag with your last name (or any name you want!).
Click here to see this Jack-o'-lantern flag on Bed Bath and Beyond.
5. Pre-Lit Halloween Tree
Are you an avid Christmas decorator as well as Halloween? Enjoy the spirit of both holidays packed into this one piece. This pre-lit Halloween tree measures 4 feet tall and is nestled into a weighted, black, urn-style vase. The black tree features 100 glowing orange LED lights. When you're ready to pack it away for the season, simply fold up its branches for easy storage.
Click here to see this Halloween tree on Bed Bath and Beyond.
6. Spooky Shrieking Skeleton Statue
Get your spook on with this shrieking skeleton statue. Whether you stick him in your front flower beds or tuck him somewhere on your front porch, you're sure to startle any passersby. He looks great on his own or amongst other Halloween decor. The quality resin skeleton has creepy detail across the whole figure. He weighs 5 pounds and measures 16 inches across and 10.5 inches tall.
See this shrieking skeleton statue on Overstock.
7. Witchy Doormat
Trade out your traditional doormat for one fit for Halloween. Greet all witches and warlocks with this coir welcome mat. Leave it on its own or pair it up with another festively patterned rug underneath. It measures 30 inches long and 18 inches wide. Though simple in nature, a welcome mat is a great way to spruce up the porch for the holiday.
See this door mat on Bed Bath and Beyond.
8. Lighted Bat Garland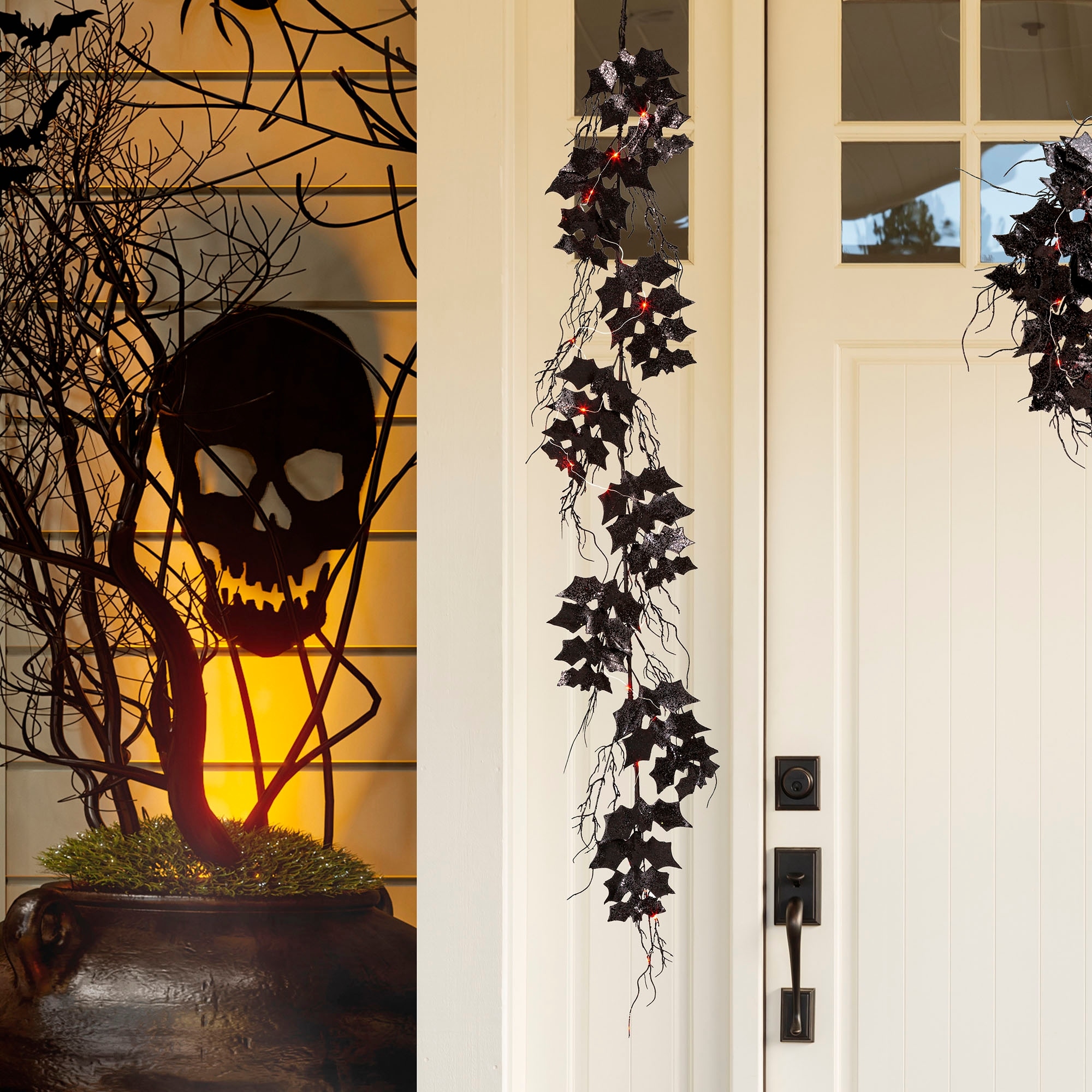 When you think of bats, there's no doubt that you also imagine all things Halloween-related. Capitalize on the spine-chilling qualities of bats with this lighted bat garland. You can leave the 6-foot garland hanging by your door or wrap it in a circle to create a wreath. 20 orange LED lights are interspersed through the sparkly, black glitter-covered bats and twigs.
You can't go wrong with these frightening flying creatures of the night as a part of your front porch Halloween scheme.
Click here to see this bat garland on Overstock.
9. Coffin Leaning Porch Sign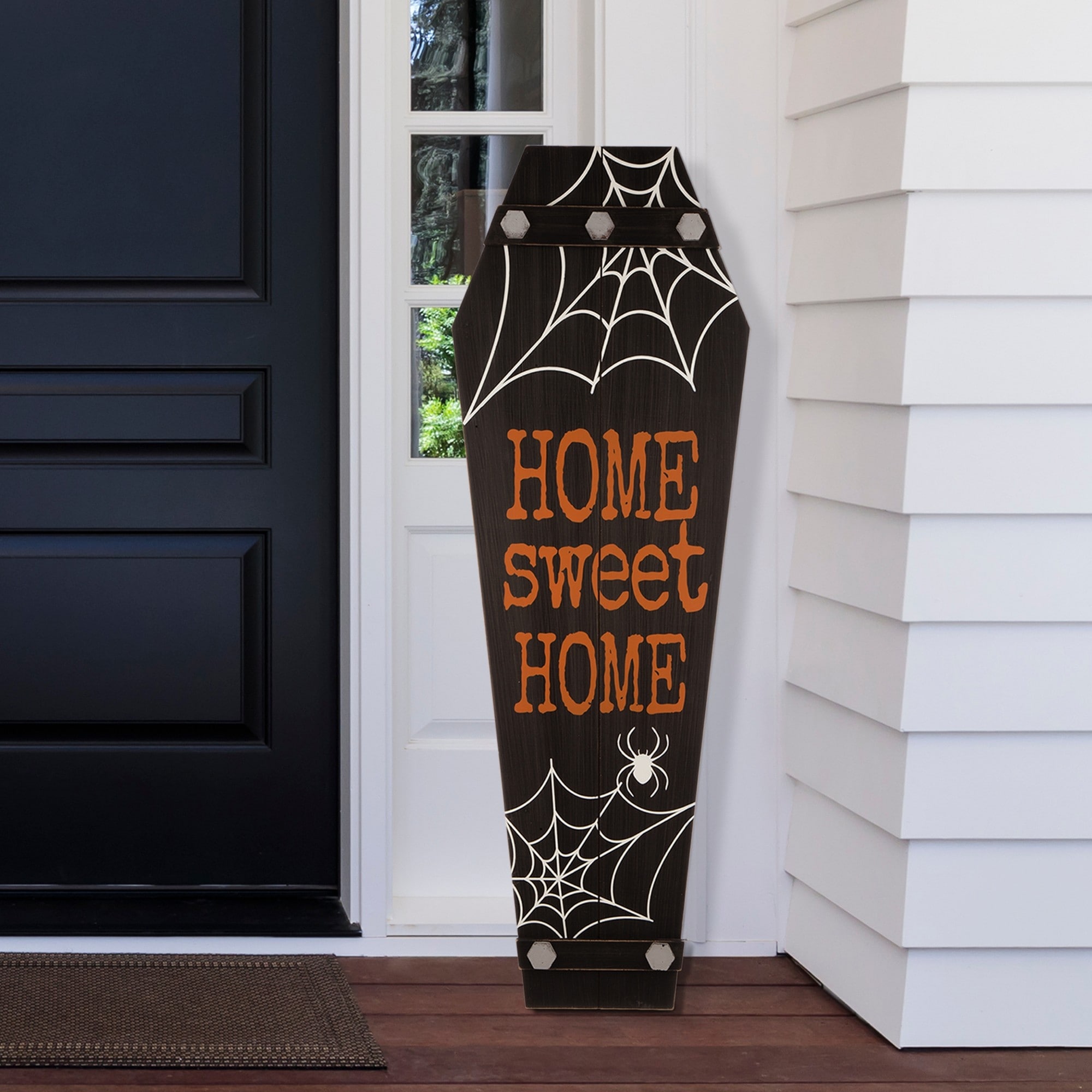 A "home sweet home" sign has never
looked so ominous! Bring out the deathly decor with this coffin-shaped welcome sign. Put away your joyful sign and let the creepy one have some time in the moonlit spotlight. Even the font style looks spooky. The sign features your classic Halloween colors of orange and black as well as your typical spider and spiderweb motifs.
Click here to see this eerie porch sign on Overstock.
10. Metal Jack-O'-Lantern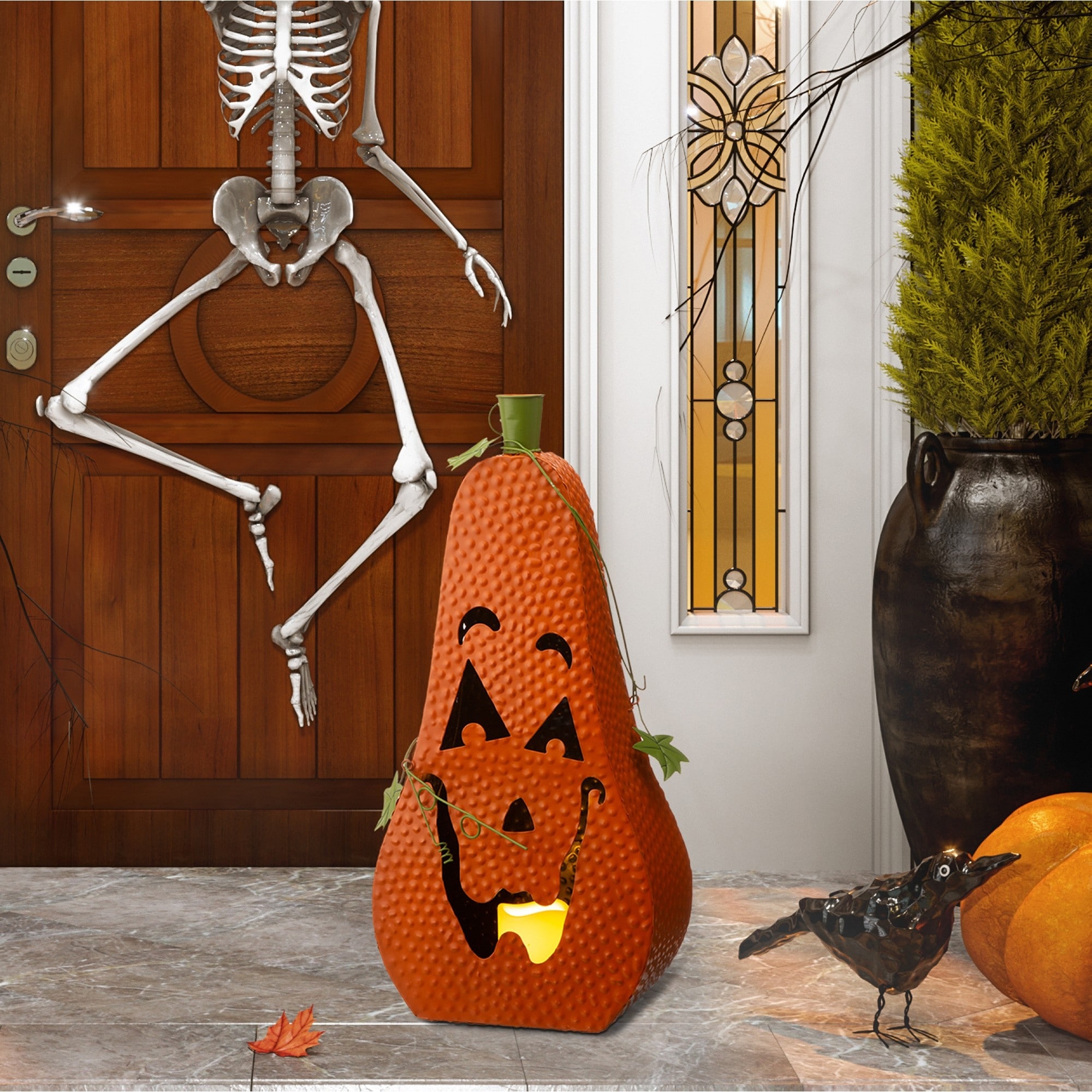 Jack-o'-lanterns are a staple of the Halloween season and for good reason. A spooky, candlelit carved out face staring at people walking by — does it get creepier than that? And while this neat piece has that classic Jack-o'-lantern smile, it still has a somewhat whimsical appearance. If you want a piece of decor that's festive but not too scary, consider this Jack-o'-lantern.
If you want to make even more of a visual impact, place a few jovial Jack-o'-lanterns and other pumpkins in a display. They'll be hard to miss.
Click here to see this Jack-o'-lantern on Overstock.
11. Happy Haunting Door Wreath
Skeleton bones, crawling spiders, and black feathers, oh my! Does it get any more Halloween-themed than that? We certainly don't think so. This "Happy Haunting" wreath really sets the tone for this creepy holiday, and it will look perfect on any front door! Its color scheme is mostly neutral (save the warm Halloween tones, of course), so it will look great alongside your other front porch holiday decor.
Check out this wreath on Pier 1 Online.
12. Wooden Scarecrow Figure
If you want something a little less on the creepy crawly side of Halloween decor, then this cute, wooden scarecrow is definitely the piece for you. He'll keep your porch looking festive and light-hearted throughout the entire fall season. Give your porch a whimsical vibe for Halloween with this charming piece. You can find this guy or something similar at HomeGoods or TJMaxx.
13. Happy Halloween Hanging Sign
Simple hanging signs are a great way to make a space look festive. This spider-adorned "Happy Halloween" sign will pair well with all kinds of front porch Halloween decor. Hang it on your front door or even along the wall next to the door. Either location will do!
Click here to see this sign on Pier 1 Online.
In Closing
Halloween decorations come in all shapes and sizes. From small and understated to large and the star of the show, there's a Halloween decorating style for everyone. Hopefully, after browsing this list, you've found just the right piece to add to your porch to commemorate the spooky season.
Before you go, be sure to check out these other ways to decorate your porch throughout the changing seasons:
15 Christmas Porch Decorating Ideas [With Pictures]
27 Front Porch Decorating Ideas That Will Inspire You
Which piece of spooky Halloween decor is your favorite? Drop us a comment below to let us know! ?