When adults reach their golden years, it is time to upgrade to a sofa that sits a little higher off of the floor. Seniors are more vulnerable to suffering aches and pains, mobility challenges, and stress on their joints from low-sitting couches and sofas. Elderly adults also need to be cautious about sitting in sofas that are super soft and allow you to sink in, as they can also make it difficult to get up or sit down without risking injury or discomfort. A higher-sitting sofa with supportive arms, adjustable backrests, and sturdy construction is an absolute most for a senior adult.
After scouring various sources for quality sofas that are stylish, durable, and support healthy posture for older adults, we came up with a list of choice sofas. Keep reading to discover high-sitting sofas that are suitable for living rooms, dens, and hallways for elderly adults.
1. Bakersfield Convertible Sofa by Serta
Seniors that still have moderate mobility and need a comfortable, functional place to sit, lounge, or nap may appreciate this espresso convertible sofa. The seating consists of premium foam to help support the body's frame for long periods and durable, supportive dream coil springs.
In case of a spill, this sofa resists stains because it is upholstered in LiveSmart fabric. Under the chaise lounge section, there is a storage cubby. The tufted backrest and seating add to the aesthetic appeal and support for the back and legs.
Check out this comfy sectional sofa on Amazon.
2. Double Recliner RV Sofa by RecPro
Seniors who need a sofa that is stylish, comfortable, and perfect for furnishing a smaller space may want to check out RecPro's Double Recliner RV sofa. Available in chestnut, mahogany, and toffee, this sofa sits at 36 inches high when the backrest is upright, and it lowers to 30 inches when in a fully extended reclining position.
Older adults who need a supportive sofa that takes stress off of their neck, legs, back, and joints would find value in this piece. Maintenance is a cinch as the sofa can be wiped down regularly to stay clean.
Check out this stylish reclining sofa on Amazon.
3. Modern Loveseat Sofa by Blackwolf
Older adults can happily furnish a living room, study, or bedroom nook with this durable and sophisticated loveseat sofa. The solid wood armrests and legs provide plenty of support when getting up or sitting down. The couch supports up to 400 lbs. and it is covered in a tasteful gray fabric with high resilience foam for comfort and support. Enjoy a simple design that seats two for a small space, and gives seniors a supportive and cushioned place to relax.
Check out this chic compact sofa on Amazon.
4. Sectional Sofa by Stone&Beam
Deck out a living room or recreational area with this stone colored sectional sofa that has stain-resistant fabric in case of spills or accidents. The solid hardwood frame gives this timeless looking sofa plenty of support, along with the reversible back and seat cushions. Overall, this couch can handle daily wear and tear while still maintaining a high-performance level of comfort, durability, and a pleasing design. Seniors can sit on this sofa in comfort while reading or watching television without fretting about stressed joints.
Check out this neutral colored sectional sofa on Amazon.
5. Gray Upholstered Sofa With Rolled Armrest by Benjara
Sit in style and comfort in this chic, Chesterfield-inspired contemporary sofa. The frame is a durable wood, and the sofa upholstery is a velvet-like fabric that is soft to the touch and inviting. Senior adults can independently get up from this sofa using the padded rolled armrests. The backrest and seat cushions are both tufted, stuffed, and display welt trim detailing.
Check out this gorgeous sofa on Amazon.
6. Blue Velvet Nailhead Sofa by US Pride Furniture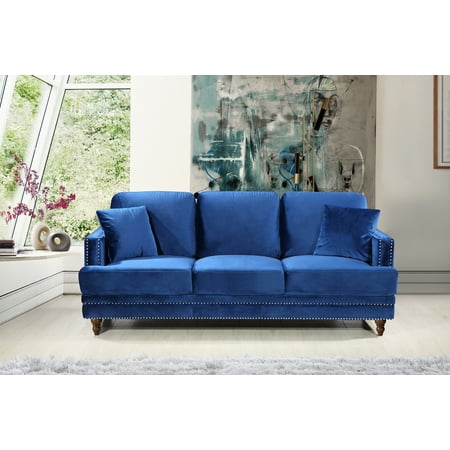 Turn up the glamour and offer senior adults a touch of luxury with this elegant sofa in brilliant blue. The sofa is upholstered in crushed velvet, filled with high-density foam for support, durable springs, and sits 37 inches high. Additionally, this sofa features a button-tufted backrest, complementing bolster pillows, and piped seat cushions for plenty of alluring details and a comfortable seating experience for hours.
You can find this fantastic sofa here at Walmart.com.
7. Park Avenue Reclining Sofa by Steve Silver Co.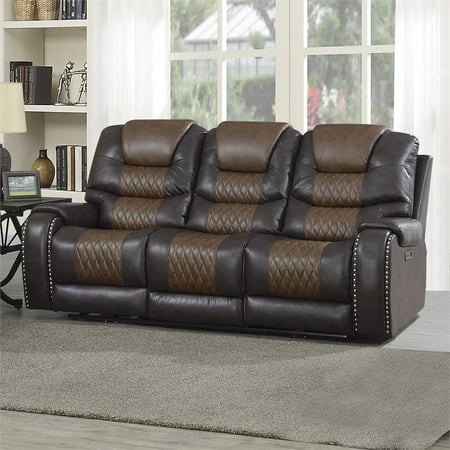 Elderly adults can sit comfortably or recline to take the stress off of their back, knees, and seat in this power reclining sofa. The sofa is covered in brown vinyl, has a hardwood frame, and uses pocket coils and memory foam for support beneath a quilted seat and backrest. Seniors can quickly shift the position of this 43-inch tall sofa at the touch of a button to use the built-in power headrest, lumbar, and footrest.
Check out this stylish reclining sofa here at Walmart.com.
8. Convertible Gray Queen Sofa Bed by Serta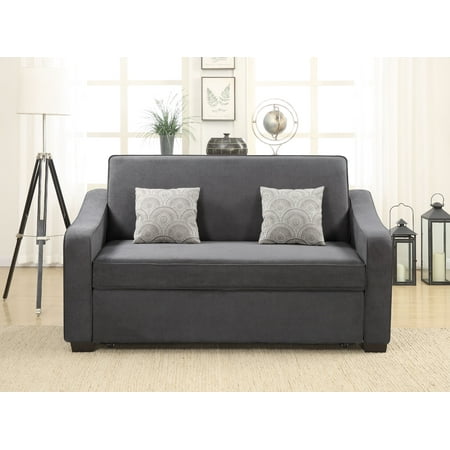 Serta has created an attractive queen size sofa in gray microfiber fabric with multiple positions available. Seniors will enjoy a taste of luxury thanks to the tailored high-density foam cushions, nailhead studded sides, and a eucalyptus frame. The seat cushions are 7.5 inches thick, and the sofa seat measures 60 x 23.4 inches. Overall, this beautiful and functional sofa provides a mix of contemporary style and plenty of support with a weight limit of 792 lbs.
This modern convertible sofa can be found here at Walmart. com.
9. Motion Sofa by Coaster Company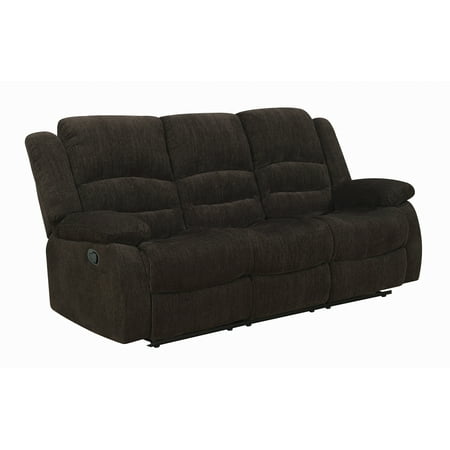 Sitting or lounging on this chocolate-colored sofa is a pure delight, as this couch is upholstered with plush fabric and provides plenty of needed support for the lumbar, spine, and lower back. The sofa sits 40 inches high and 87 inches across for plenty of room and makes sitting down and getting back up comfortable. Overall, this sofa provides support for the back and reduces stress and pressure on joints.
Check out this chocolate sofa here at Walmart .com.
10. Alianza Sofa by Acme Furniture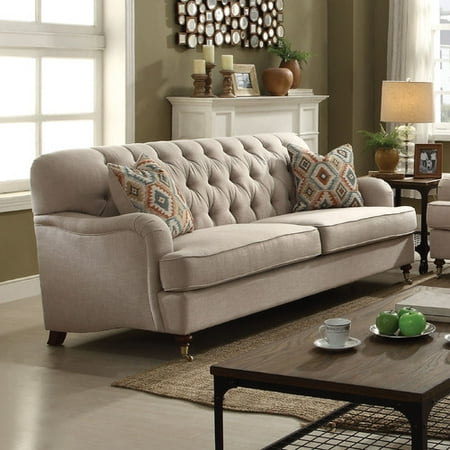 Create the ultimate in ambiance and comfort with this neutral-colored sofa with intriguing details. The sofa is upholstered in linen, has a tufted backrest, and English-style armrests. Elderly adults will fall in love with the timeless features of this sofa, in addition to appreciating the tight back, padded seat cushions, and included throw pillows. The included throw pillows provide extra support for the neck, back, or seat, and aesthetic appeal with their colorful repeating design.
Find this tufted sofa at Walmart.com.
11. Antique White Sofa by HomeRoots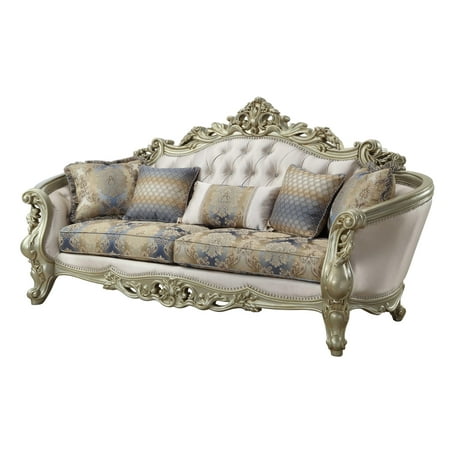 Reach back to the past for a supportive and sophisticated looking couch with antique inspiration and details. The sofa sits 47 inches high and features carved wood embellishments on the sofa's trims and aprons. Taking a seat and rising out of this sofa is more accessible with the curved and rolled armrests. The backrest features button tufts and nailhead trim for a touch of class and elegance. Also included are five contrasting throw pillows for added back support. The sofa has poly-resin fabric featuring romantic floral motifs with a champagne finish.
Click here to read articles related to living room furniture.