Moms love knowing that they're loved and appreciated! They play such an important, impactful part in everyone's life, so why not let mom know you're thinking about her by giving her a gift. It can be for a birthday, a holiday, or simply just because. There's never a bad time to give someone a gift.
Since mom is Queen of the household, it only makes sense to gift her something household-related. She'll be amazed by how perfectly these gifts speak to her! We're here to help you out, so we created a list of 15 household-related gifts for mom. So, without further ado, let's get shopping!
1. "Home Is Wherever Mom Is" Throw Pillow Cover
Could a saying be more accurate than this one? Home certainly is wherever mom is. Mom will adore this pillow, and she'll proudly display it on the nearest couch or chair. The cover is crafted from 100% cotton linen, ideal comfort. The pillow cover has a hidden zipper so that it won't be pesky or noticeable.
There are four pillow cover size options: 12 inches x 20 inches, 16 inches x 16 inches, 18 inches x 18 inches, and 20 inches x 20 inches.
Click here to see more on Amazon.
2. Birthday Reminder Calendar
Birthdays and important dates can get tricky to remember as families expand, and friends are made. This calendar is a neat, helpful way to mark birthdays and events and ensure that they're always remembered. All you have to do is write the name and birthday/event on a wooden tag and attach it to the appropriate month!
The sign comes with 50 round wooden tags, 50 wooden heart tags, 10 wooden star tags, twine for hanging, a hook for attaching to the wall, and a handful of metal rings to attach the wooden tags to the sign and each other.
Click here to see more on Amazon.
3. Personalized "Mom" Block Mount
This personalized "mom" sign makes for the perfect addition to any wall space. In the middle of the word, "mom" are the names of her children. The style of this art is so cute and will match any decorating style.
There are three size options: 6.5 inches x 18 inches, 9.5 inches x 26 inches, and 13.5 inches x 32.5 inches. This sentimental art will be loved for years to come.
Click here to see more on Amazon.
4. "My Mom" Wood Plaque
Sentimental, well-worded poems are a great way to express your feelings and love. This poem by Anne Peterson says everything you'd want to tell your mom. The wooden plaque has a vinyl coating on the top to soften the appearance. It's a fully-colored print that will stand out regardless of where it's placed.
The plaque measures 6 inches x 9 inches. It has an easel back for effortless tabletop display or a hook to hang it on the wall.
Click here to see more on Amazon.
5. Family Tree Picture Frame Display
Keep track of your family with this family tree picture frame display. The dark metal has an intricate array of leaves and branches that contributes to its beautiful aesthetic. The tree comes with ten hanging frames that measure 2 inches x 3 inches. The tree measure 20 inches x 20 inches.
Click here to see more on Amazon.
6. Personalized Engraved Picture Frame
Pictures are worth a thousand words. This wooden frame is laser engraved with the quote, "Home is where Mom is." on the top, "Love you, Mom!" on the bottom, and then a custom signature can be added underneath that. The frame holds a 4 x 6 photo.
Click here to see more on Amazon.
7. Willow Tree Sculpted Figurine
Willow Tree figurines have become treasured pieces in the household. This sculpted figurine features a father and an expecting mother in an embrace. The figurine measures 8.5 inches tall and is perfect for fitting onto a shelf, mantle, or any other desired display area. These figurines do an incredible job of expressing real human emotion.
Click here to see more on Amazon.
8. Baby Handprint And Footprint Keepsake Picture Frame Kit
Capture baby's handprint and footprint forever with this keepsake picture frame kit. The kit includes everything needed to cast a footprint and handprint: clay, a roller, double-sided photo tape, and a stencil kit. The keepsake frame has room for the clay and two photos that measure 2.7 inches x 2.7 inches.
Click here to see more on Amazon.
9. Personalized Hanging Kitchen Sign
Mark mom's kitchen with this personalized hanging kitchen sign. Customize the sign so that it has your mom's name written on it. The wooden sign has two size options: 13 inches x 9 inches and 16 inches x 9 inches. It has twine on the back for easy wall hanging. Pick from a white or brown rustic background color.
Click here to see more on Amazon.
10. Framed Wooden Sign
Mom can never have too much wall art. This framed wooden sign emphasizes the love of a mother and the importance of her children in her life. The style of the frame and fonts used are adorable and eye-catching. Pick from 12 colors for the frame to guarantee she'll love it.
Click here to see more on Amazon.
11. "Mom's Rules" Hanging Sign
Mom's rules are always the most important to adhere to, right? As the sign says, mom is always right! She'll crack a smile as soon as she opens this gift. The sign has a rustic aesthetic, measures 11.5 inches x 6 inches, and comes ready to hang with an attached jute rope.
Click here to see more on Amazon.
12. "Love You Mom" Pears
Mom is always looking for new decorative pieces to display around the home, so these "love you mom" pears will be ideal. The three pears are made from clay, hand-stamped, then handpainted, giving them all a unique look. Each pear measures approximately 2.25 inches tall and 1.5 inches wide. Their small size ensures they'll fit anywhere she wants them to!
Click here to see more on Amazon.
13. Personalized " I Love You Mommy" Picture Frame
This laser engraved picture frame utilizes a "kiddie" handwriting font to give it the precious script that you would expect from a child. It has complete customization options, meaning you can decide what text you want to be engraved across the whole frame. The three frame size options include 4 inches x 6 inches, 5 inches x 7 inches, and 8 inches x 10 inches.
Click here to see more on Amazon.
14. Japanese Design Teapot And Cups Set
Is your mom a tea-drinker? If so, there's nothing she'd love more than receiving a unique tea set. This Japanese design tea set includes settings for four people. It comes with one ceramic teapot with a strainer and four ceramic cups. All the pieces are dishwasher safer, as long as you remove the wooden handle from the teapot.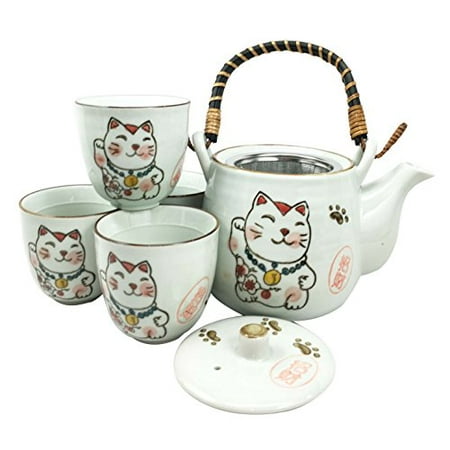 Click here to see more on Walmart.com.
15. "Mom" Soft Fleece Stadium Blanket
Ensure that mom stays warm at all times with this soft fleece stadium blanket. The blanket has "mom" and an assortment of complimentary adjectives printed across it in a handful of fonts, sizes, and colors. The throw blanket measures 50 inches x 60 inches.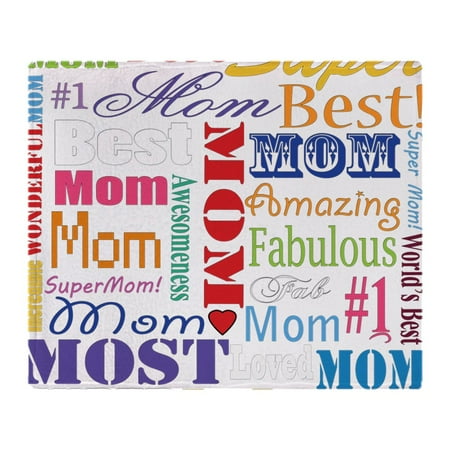 Click here to see more on Walmart.com.
Let us know in the comment section below which household-related gift you decided to give your mom! Before you go, make sure to check out these other fantastic home decor guides:
13 Awesome Picture Frame Gift Ideas For Mom