Interior designers are your friends with exquisite taste. And people with exquisite taste are hard to get gifts for because they know what they love. If you're at a complete loss for the perfect gift, why not something fun? Everyone loves a cup of coffee or tea, and who doesn't love a mug appropriate for the gift-receiver?
We've compiled a collection of eleven great mugs that will make excellent gifts for friends or colleagues who are interior designers. Let's see what we found.
1. HGTV Versus Design Degree Mug
HGTV is the bane of every working interior design professional's existence. On the one hand, it has introduced a whole world to the idea of a beautifully designed living space. On the other, it makes every person who watches think they are capable of aptly transforming a space into something show-stopping. Did you know that Interior Designers complete their degrees in the architecture program? And that they go to college for four or five years to do this? If you do, and you understand your design friend's frustration, this mug is the perfect gift idea.
Click here to see this on Amazon.
2. Fantasy World Of Design Mug
"I am an Interior Designer. That means I live in a crazy fantasy world with unrealistic expectations. Thank you for understanding." This cute typographic-style mug is the perfect choice for that sassy designer friend. You know the one. They spend hours poring over fabrics or days tripping through a flea market looking for the ideal design find. Acknowledge their passion with this super fun mug that will show them you know them.
Click here to see this one on Amazon.
3. Solve Design Problems Mug
"I'm an Interior Designer. I solve problems you don't know you have, in ways you can't understand." This one is for the design friend who's so tired of clients saying, "I could do that." Because the reality is, they probably can't. Interior designers are outside of the box thinkers. They use materials in ways most people wouldn't think of. They tackle architectural issues and roadblocks as well as color choices. They are the real heroes if you're designing an interior from the studs up. Acknowledge the interior designer in your life with this washable mug.
Click here to see this one on Amazon.
4. Design Miracle Worker Mug
"Interior Designer, because badass miracle worker isn't an official job title." This cute mug is a great gift idea for the person who's just transformed your space. It's a way of saying you recognize what a mess it was until they came along and waved their magic, or hard work, wand. A perfect little extra thank you to go along with their payment.
Click here to see this on Amazon.
5. Creative Everyday
Here's a simple way to say thank you if you're not sure of your interior designer's sense of humor. This one simply states the facts. An interior designer is a creative person every single day, and this mug acknowledges that truth. The typography on the printed, washable mug is colorful, engaging, and creative itself. Pair it with some delicious teas, and you've got a great thank you gift for your favorite designer or creative.
Click here to see this on Amazon.
6. Interior Designer Superpower Mug
"I'm an interior designer. What's your superpower?" Another great mug for the design pal in your life. Acknowledge that having exquisite taste IS a superpower. Not everyone can creatively transform a space's look and function into something that works efficiently while pleasing the palate. But an interior designer can, and that's what makes this mug perfect to gift.
Click here to see this on Amazon.
7. Farmhouse Style Dreams Mug
"I dream of shiplap walls, subway tile, farmhouse sinks, barn doors, & chippy paint." Do you know a designer who loves modern farmhouse decor? Maybe they're a fan of the designer Joanna Gaines. Or perhaps they're not, and this could be a perfect ironic gift. Either way, all of these items represent a specific design aesthetic, and the mug expresses it. You'll know if you have the perfect designer in mind for this cute present.
Click here to see this on Amazon.
8. Design Grad Personalized Tumbler Mug
Do you know someone about to graduate with an interior design degree? This portable travel tumbler in stainless steel is a great gift idea. It comes in a 20 oz or 30 oz version and a wide variety of colors. Its double-wall insulation and clear lid are great for heat or cold retention. It will be engraved with the name of the graduate you are gifting for a super personalized acknowledgment.
Click here to see this on Amazon.
9. Caffeine and Juxtaposition Mug
"Interior Designer: a creature that sleeps two hours a week, consumes entirely too much caffeine, and likes to overuse words such as juxtaposition." Why not juxtapose this sarcastic mug with a great big hug for the great job your designer did on your interior space? You'll make them laugh and smile with this light-hearted jibe at the failings of their profession. The classic white mug is dishwasher safe and will hold a nice full cup of caffeinated coffee.
Click here to see this on Amazon.
10. Retro Designer Coffee Mug
"Instant Designer, Just add coffee." Another mug on the theme of staying awake and caffeinated to get the job done. This mug has an old diner feel in both its heft and retro graphics. If you noticed that your designer friend spends as much time fueling up as finessing the details, this mug might be for them. It's machine washable and a solid ceramic finish.
Click here to see this at Walmart.com.
11. #shiplap Mug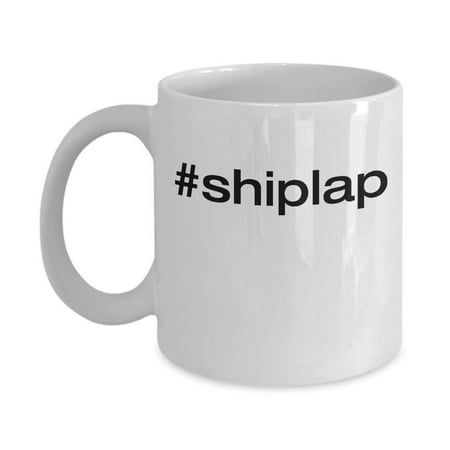 Shiplap, the wooden planking made popular by HGTV's Chip and Joanna Gaines, was once a finish used under plaster walls. But lately, it has seen a resurgence as the prime feature. As a designer, you either love it or hate it. Give this mug to either type of designer. The irony for the hater, solidarity for the lover, whichever way it's a gift that will bring a smile to the receiver's face.
Click here to see this at Walmart.com.
One of these mugs is begging for you to choose it, wrap it up, and make your designer know you were thinking about their great work.
If you enjoyed this list of fun gift ideas, please check out these other lists here at HomeDecorBliss.com below:
17 Fantastic Blush Pink Throw Blankets That Will Keep You Warm and Stylish