It's not the most exciting accessory for your kitchen, but it's undoubtedly one of the most necessary. We all need and use a trash can in our kitchen several times daily. But often the purchase of one is an afterthought. But should it be? A kitchen trash receptacle can be functional, odor proof, lidded, or not-lidded. It can have a stylish design, be made of metal or plastic.  It serves an essential role in your daily life, so shouldn't you pick out the one that works best?
Surprisingly, one of the best places to shop for everyday items for your household is Walmart.com. The online site has way more options than any individual store does, and has the great pricing they're known for. We were curious to see what they might have in the way of kitchen trash cans and found quite a few we thought would work out well for any kitchen.
Functional And Fantastic Kitchen Trash Cans
Let's take a look at some of the varieties available on Walmart.com.
1. Style And Function In Fingerproof Stainless Steel
This trash can is sleek and spectacular. It holds a good 13 gallons worth of kitchen waste. It has a lid to keep in odors and an easy foot pedal for hands-free opening. There's nothing worse than holding a cutting board full of scrap and risking a spill by having to open the can with your hand. The lid is also super quiet, so you don't have to worry about it slamming down if you let go too quickly.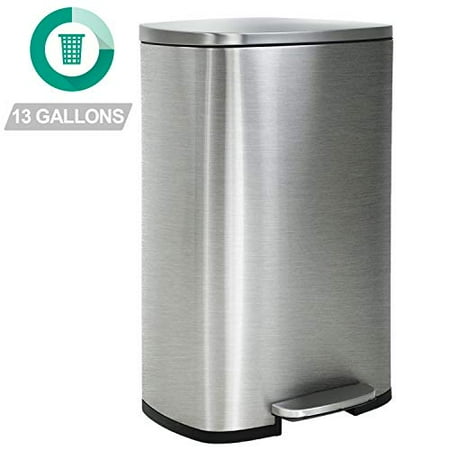 Click here to see this item at Walmart.com
2. Retro Cool Colored Kitchen Trash Can
Your style is bright and bold, and so should be all of your accessories. Which is why you're going to want to take a look at this super cute trash can. That's right, we said super cute and trash can all in the same breath.  But are we wrong? This sleek cylindrical design comes in a popping bright red or a glimmering bright white. It's got a soft close lid to help keep odors at bay. A foot pedal for easy open and close and even a removable liner to help make cleaning a breeze.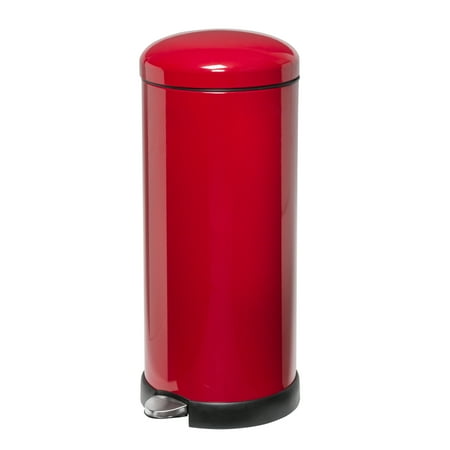 Click here to see this item on Walmart.com
3. Lightweight and Bright Lidded Kitchen Can
Here's a fun and bright trash can. This lidded plastic can is suitable for the smaller kitchen as it holds a neat and tidy 7 gallons. The lid locks, and it's available in several different colors and is super affordable if you're on a budget.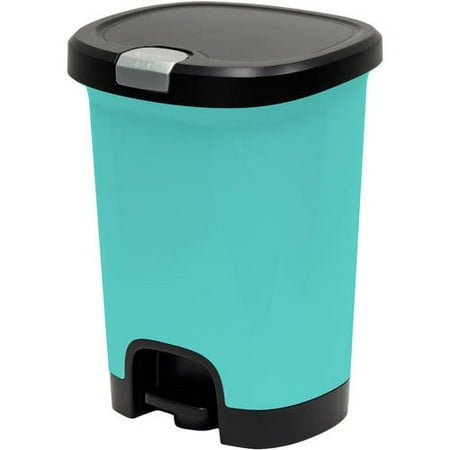 Click here to see this item on Walmart.com
4. Rectangular Step Trash Can
This rectangular-shaped stainless steel trash can will fit neatly into a squared-off space. The steel is rust-resistant, so you don't have to worry about wet hands when touching it. But, hey, you don't have to touch it because it has an awesome foot pedal! And a pull-out liner for when you need to give it a cleaning up.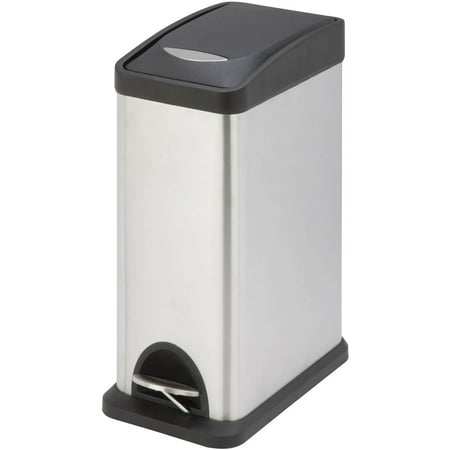 Click here to see this contemporary trash can on Walmart.com
5. One Piece Large Kitchen Trash Can With Touch Lid
Want a large kitchen can with an easy touch open lid that won't break the bank. Something no-nonsense that gets the job done? This Hefty 13.3 gallon can might be what you need.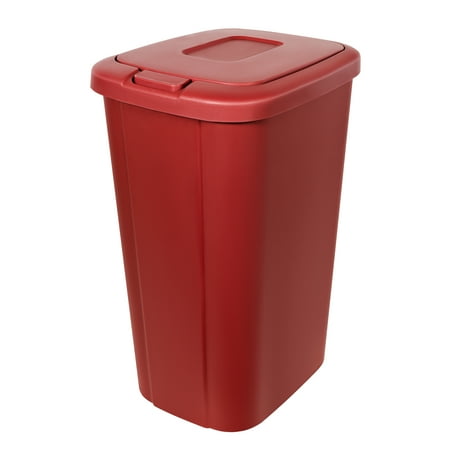 Click here to see this item on Walmart.com
6. Lid-Free With Dual Deodorizer
Don't like a lid on your trash can? Find it to be a pain in the rear to open the trash can every time you want to throw something out? Well, this open lidded model in stainless steel has a neat feature. It comes with two carbon filter deodorizers to keep smells at bay. And it looks sleek and modern, too!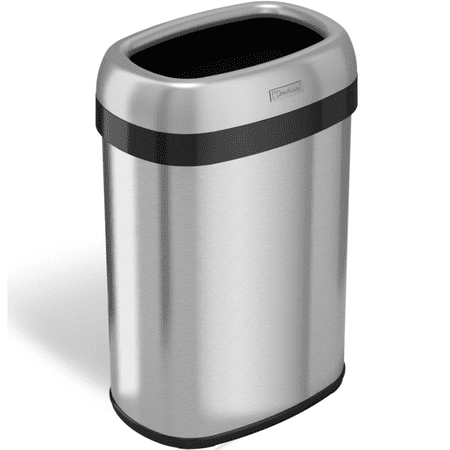 Click here to see this on Walmart.com
7. Black Stainless Oval Kitchen Waste Can
This large 12-gallon can is finished off in the new, and oh so popular, black stainless. If you're recently upgraded your appliances to black stainless, this may be the perfect waste can for your kitchen. It's lidded with a foot pedal for a sleek look.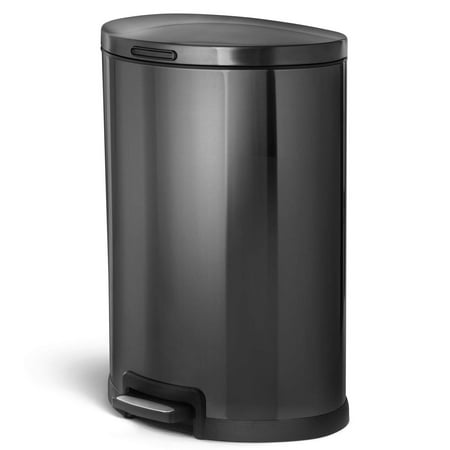 Click here to see it on Walmart.com
8. No Hands Ever - Automatic Sensing Trash Can
Always wanted your own Rosie the Robot like on the Jetson's cartoon? You can have her. This crazy cool trash can has an automatic sensor that will open when it feels you getting near. Then it will stay open until you've moved the set distance away. It keeps odors trapped tightly inside, so no worries about bugs of any sort.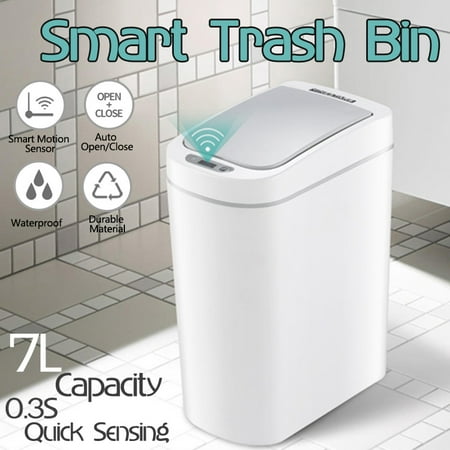 Click here to see this can on Walmart.com
9. Keep It Simple - Large Kitchen Can
This sizeable lidded can fits standard size kitchen trash bags. But the best part? The bags stay hidden under the concealed bag-holding rim. Available in several colors.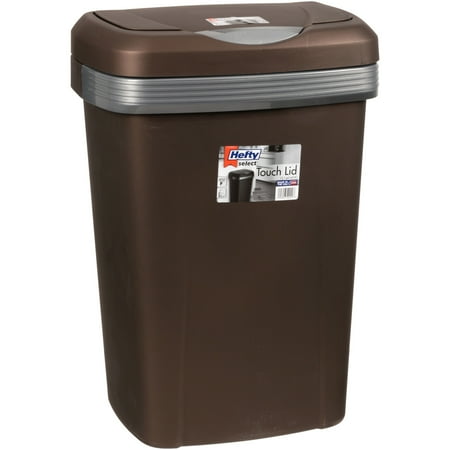 Click here to see this on Walmart.com
10. Portable Trash Bag Holder For Your Outdoor Kitchen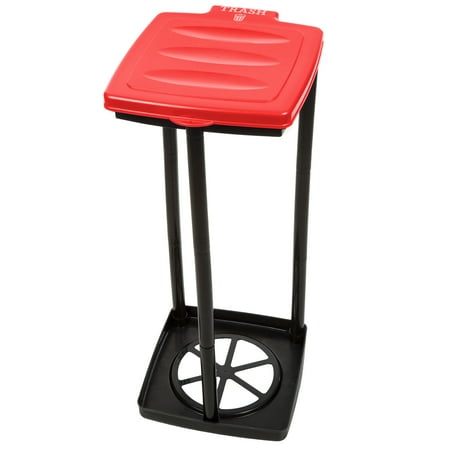 In the summer, your family moves it outdoors. Whether camping, by the pool, or in your outdoor kitchen area, you're still going to have trash. This handy stand keeps you from wadding up your trash bag on the ground or hanging it from a door handle somewhere. When the stand's not in use, fold it up for storing away.
Click here to see this neat idea on Walmart.com
11. Collapsible Folding Trash Can For Small Kitchen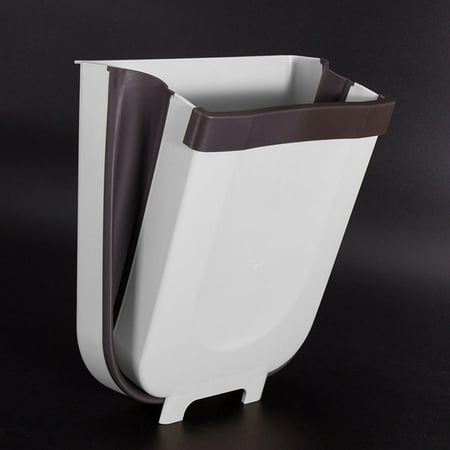 Are you living in a small space where every square inch is at a premium? This collapsible folding trash can that mounts inside of a cabinet door may be what you've been looking for in a trash can.
Click here to see this on Walmart.com
12. Faux Wood Round Trash Can
No place to hide away your trash can and want something that's not so trash can-looking? This excellent receptacle is coated in smooth cleaning faux wood polypropylene paper. The lid is hinged and can be opened with a simple push.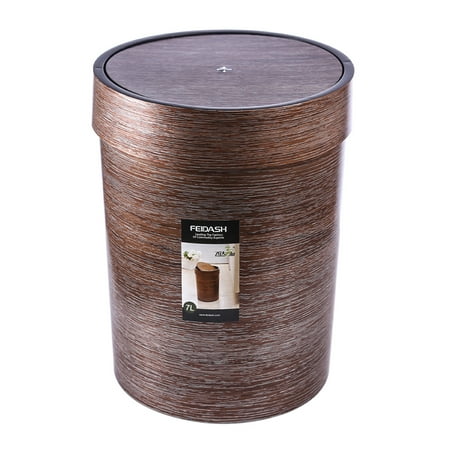 Click here to see it on Walmart.com
13. Elegant Shaker Style Wooden Trash Can For The Kitchen
No ordinary trash can is going to do it for you. Why not consider a gorgeous wooden shaker style that can be made to look like kitchen cabinets? This has a lid that opens and a panel that swings out, allowing you to place a plastic bin inside to be hidden away.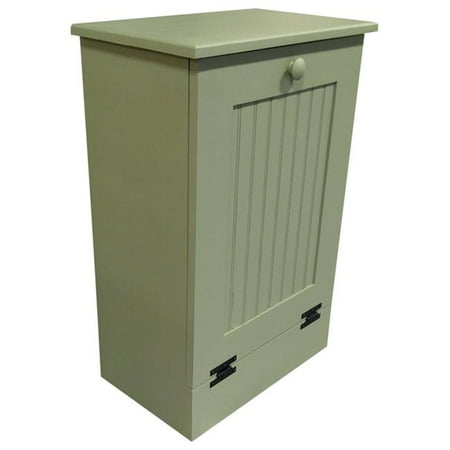 Click here to see this on Walmart.com
14. Rustic Farmhouse Style Trash Bin In Many Colors
This Amish made bin screams farmhouse style. It's hand-crafted pine and then finished in a large variety of colors with a rustic sanded finish. The star detail is the perfect finishing touch.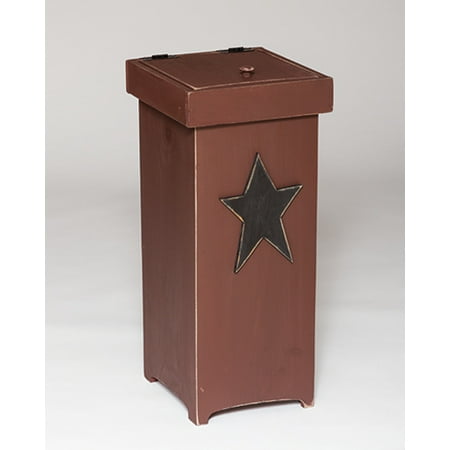 Click here to see this on Walmart.com
15. Unique Lace Design Kitchen Trash Bin
This small trash bin has a wickedly unique design. The plastic exterior has been manufactured to look like floral lace. It's lidded with a foot pedal for ease of use and comes in brown, gold, or white.
Click here to see it at Walmart.com
16. The Ultimate Whiskey Barrel Trash Bin
This trash can would be perfect for your outdoor kitchen. A large authentic whiskey barrel has been cut and hinged to hold a black plastic can inside. You'll be the talk of the summer patio party with this one.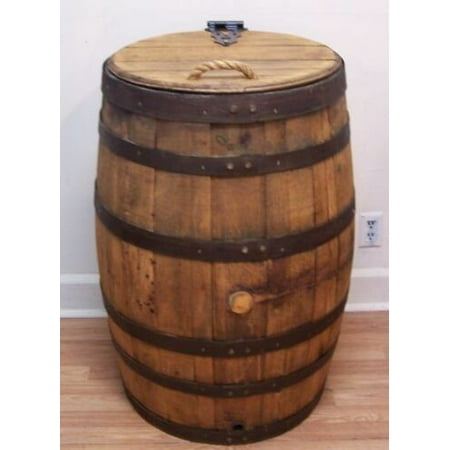 Click here to see it at Walmart.com
Love this list of kitchen items? Check out these other posts here on HomeDecorBliss.com
15 Red Vinyl Kitchen Chairs for That Retro Chick Diner Look