Buying a house is a massive moment in one's life, and when it comes to helping someone celebrate such a momentous event, you want to find the perfect something. Getting something that will make a new house feel like home can be tricky to find, but we've compiled a list that can help you pick out the perfect gift.
First time home buyers need a lot of things, things that they often overlook. That's why we have a variety of options that covers all of the bases.
From pillows to wine glasses, we have formed a list that covers a range of budgets and rooms so you can truly find the best gift option that will make you look like a rockstar.
1. Farmhouse Pillow Covers
To get things kicked off, these pillow covers are an excellent option for a gift for first-time homebuyers. It carries a sentiment that this place is going to be a home and a place of refuge, especially great for a couple. This gift fits a small budget well.
The pillowcase itself does not come with an insert, so that is something to keep in mind. There are four other designs to choose from and has terrific reviews.
Click here to see these pillow covers on Amazon.
2. Housewarming Mugs
If you want to help commemorate the moment perfectly, this set is the gift for you.
Luckily, this option comes in a one-pack or a set of two, so you can adjust your order accordingly. The mugs are ceramic and promise to withstand the test of time without having the print fade.
One bonus is that the mugs come shipped pretty and perfect, already in a gift box.
Click here to see these mugs on Amazon.
3. Willow Tree Mi Casa Figure
Willow Tree is a fantastic brand that helps celebrate moments, events, and families. This figurine encapsulates that great event of buying a home for the first time, making it a great gift.
This present is something that will be unexpected, original, and appreciated for a lifetime.
It is 5.5 inches tall and hand-painted. This is an excellent option for the sentimental.
Click here to see this figure on Amazon.
4. Homelike Moment Throw Blanket
There is no such thing as owning too many blankets. A perfect way to make a new home feel cozy is to introduce a new cozy companion. A fresh, clean throw will surely be welcomed with open arms.
This blanket is sherpa (extra fluffy), reversible, and hypoallergenic. It comes in different measurements: 50" x 60" or 60" x 80".
Homelike Moment blankets are priced right and have excellent reviews.
Click here to see this blanket on Amazon.
For more information on throw blankets, click here.
5. Foldable Wine Rack
A foldable wine rack is a great option for first-time homeowners as the first house is not always the most spacious. This option displays wine bottles for a party or when there is enough room without overcrowding a space.
This wine rack, in particular, is made of bamboo, so it is lightweight yet sturdy. One nice feature of this wine rack is that it comes in two different color options. It's also reasonably priced and loved by its customers.
Click here to see this winerack on Amazon.
6. Pack of Scented Candles
This six-pack of candles is great for first time home buyers because it comes in a wide variety of scents and lasts a long time. They are discrete and fill the air with the most amazing smells, bringing in a homey feeling the new homeowners might be missing.
This set is made of soy wax and essential oils, so it's great for those who love natural vibes throughout. It's also packaged in a gift box, so there is one less step for you!
Click here to see these candles on Amazon.
7. Personalized Wooden Kitchen Wall Decor
Made from pine wood, these customizable signs look great in any kitchen and bring a personal touch to a new house. Being able to change the name and date is a great feature.
These signs come in two different sizes (16 x 12 inches or 13 x 9 inches) as well as in 3 different design options. With that in mind, you can go all in and create something personal for your gift.
Click here to see this wall decor option on Amazon.
8. Mandala Style Coasters
Coasters are another thing that some couples (or families or singles) don't think about buying or bring when moving into a home for the first time, but they come in handy. With new furniture, coasters ensure they stay new.
Mandalas are also a very stylish trend at the moment and bring a fun, quirky element into a home.
These coasters come in a pack of 8, have a cork back to stop slipping, and absorb any condensation, making them practical and beautiful.
Click here to see these coasters on Amazon.
9. Bless this House Wood Plaque
If you are feeling sentimental, a "Bless this House" plaque is a great gift. It shares all the kind thoughts and prayers that you wish for the new homeowners so they can constantly be reminded someone is looking over them.
It is in a rustic style that fits in with a lot of popular decors and is made 100% in the US.
Of course, this sign is religious, so it may not be for everyone, but it is a great option for those who share beliefs with those who are moving into the new home.
Click here to see this plaque on Amazon.
10. Aromatherapy Candles Infused with Essential Oils
This eight pack of candles is another option for those who want to bring light, warmth, and heavenly scents into the new home. This makes for a great gift because there is a variety of candles, so your friends can find one (or more) that they love best.
These candles are also infused with essential oils, which have benefits.
Reviewers love these candles because of how long they last!
Click here to see these candles on Amazon.
11. Bartender Mixing Tool Kit with Wooden Stand
If your friends or family moving into their new home is the life of the party or just someone who likes to host, this kit is a must.
Not only does the kit come with all the essentials, but it also comes with a small recipe book to learn basic mixology. It's compact as well.
We recommend this set because it comes highly-reviewed by bartenders. The quality speaks for itself and is the perfect gift to get the housewarming party really going.
Click here to see this kit on Amazon.
12. Wall Mounted Wine Rack
Another great gift for the first time homeowner is a wine rack that is practical and sophisticated. It comes ready to mount at the wall and measures 16.5 x 4.5 X 8.5 inches.
It fits five typically sized wine bottles and also can hold corks and stemware (though those are not included).
Those who have purchased it have loved it and is a great place to start a wine collection.
Click here to view this wine rack on Amazon.
13. Ceramic Sushi Dinnerware Set
A fun gift to give for a new homeowner is this sushi dining set. While most people do have some dishware, they probably don't have fine sushi sauce bowls lying around.
This set is designed for a couple, as the set comes with two dishes, two chopsticks, and two sauce bowls. So it makes sense to purchase this for a pair of homeowners rather than just one.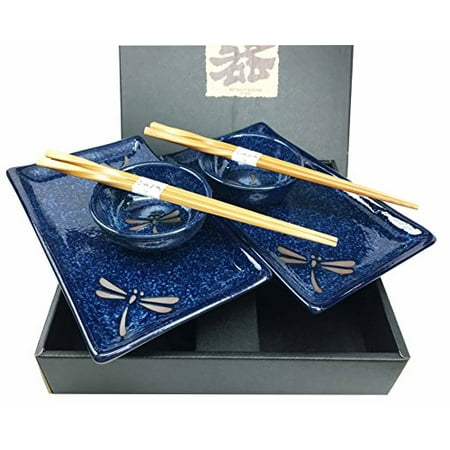 Click here to view this set on Walmart.com
For other kitchen gift ideas, read our article on decor for the kitchen here.
14. 11 Piece Hanging Picture Frame Set
One of the best ways to help someone celebrate events as momentous as purchasing a home for the first time is to find ways for them to personalize it.
This set of 11 frames will allow the couple to make a space their own with photographs of their own. The collection allows for stylish variety while still coming together perfectly.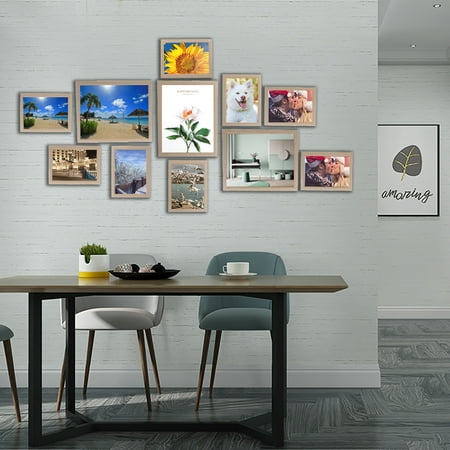 Click here to view this picture frame set on Walmart.com
15. Grow light Frame Shelf
A unique and fun gift option is the grow light frame shelf. It is easy to hang, and then it becomes an indoor area to grow plants that will be well lit and taken care of.
This is a great option for those who are moving to a townhome or even just those with green thumbs.
Click here to view this shelf on uncommongoods.com.
Wrapping Up
Keep in mind there are so many gift ideas out there that first-time homebuyers are going to love! Remember to match the present to the person and their decor. Best of luck!