Tall people have different needs when it comes to seating. For a sofa, you have three distinct considerations: the back height, the seat depth, and the seat height from the floor. Also, sofa length if you're looking for something to stretch out on.
For seat depth, you want to find a sofa around 23-25" deep, seat height should be in the 15-20" range, and your seat back should be closer to 36" than the standard 30" seen on many couches. When choosing a length, you want to think about your height, and that your head will rest on one end, and perhaps your feet propped up on another. If you're 6'5" tall, then think about making sure your couch is at least 70-75" long.
We've put together a collection of excellent couches for tall people below. If you know the dimensions you like on a sofa, then it's easy to order one online. Most companies have generous return policies if it's not the right choice for your space, but always read the small print to make sure.
1. Modern Sectional Chaise Sofa
This 80" long sofa comes in several upholstery colors and has a nice high back of just under 36". The optional chaise cushion with ottoman gives you a good 62" to stretch out your legs fully while sitting upright. It's built on a hardwood frame with solid beech wood legs. It comes in separate boxes and has easy assembly. Order it in any configuration you like.
Click here to see this on Amazon.
2. Simple Couch For A Smaller Space
This elegant mid-century modern inspired sofa comes in easy-to-clean linen fabric. The frame is durable and has solid wood pyramid legs in matching black. This is a great compact sized sofa for a small space that will work for a tall person. It has a 36" back and is a full 72" long. It has a total weight limit of 450 lbs, but that is split between the seat spaces.
Click here to see this on Amazon.
3. Reclining Sofa With Power Headrests
This is a comfy hangout for not one, but two tall people. Dual recliners stretch out to a massive 63," and the seat depth is a comfortable 24". Seat width is also generous. This sofa works from a remote switch inside the arm and allows you to recline and put back upright with only the punch of a button. Each headrest and recliner is independent, so each can be set at different positions. Available in white as shown, or black or grey.
Click here to see this on Amazon.
4. Long Mid-century Modern Couch
Here's a long 90" mid-century modern inspired upholstered sofa. It comes in a variety of colors and sits up on cherry-stained wooden legs. The back has simple tufts, and the upholstery is an easy-clean polyester. The 6" cushions are supportive and comfortable for sitting or lounging.
Click here to see this couch on Amazon.
5. Blue Velvet Sofa
This elegant sofa harkens back to the days of Hollywood screen stars. It's luxurious velvet upholstery with silver nail heads sit atop clear acrylic legs giving it a super chic salon kind of look. It has a tall supportive back at 34," and the overall length is a generous 84" long. The seat cushions are high-density foam for extra comfort.
Click here to see this on Amazon.
6. Long Convertible Sofa Bed
A casual look for a playroom, den, or home office that can convert to a sofa bed when needed. It's a generous 88" in length. The back is a supportive 35" in height, and the depth is 35" in total. The two bolsters are included with the couch.
Click here to see this one on Amazon.
7. Oversize Bonded Leather Chesterfield Sofa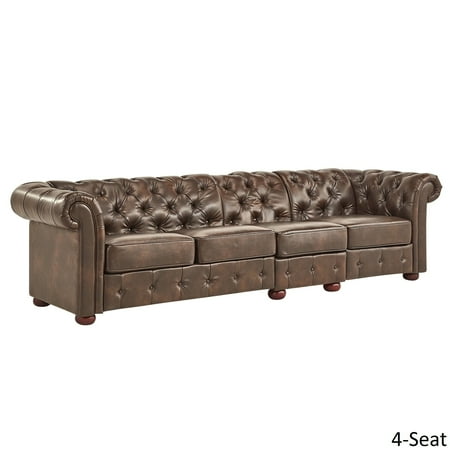 Here's an oversize traditional brown bonded leather chesterfield sofa. The six-seat sofa comes in three pieces and one set of sofa arms for a whopping 164.8 inches long. Are you and your spouse both tall? No worries, this sofa will allow you each to stretch out while watching television. It does have a lower back at only 30", so you must decide if that part of it is comfortable for you.
Click here to see this sofa at Walmart.com.
8. Serta Recliner And Chaise Sofa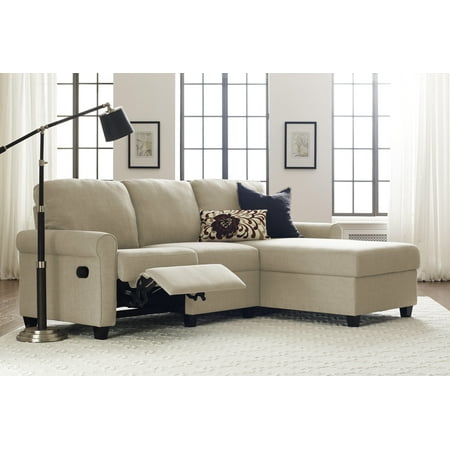 This sectional is super versatile. One end features a recliner for the option of stretching out your legs. The other end features a more traditional sectional chaise section. The back height of this sofa is a generous 36" tall, which means you will have plenty of support at a height to suit a taller frame. The chaise section features storage beneath the cushion to tuck away your throw blankets and magazines. Available in right side or left side configurations and requires some assembly.
Click here to see this sofa at Walmart.com.
9. Corduroy Sectional With Ottoman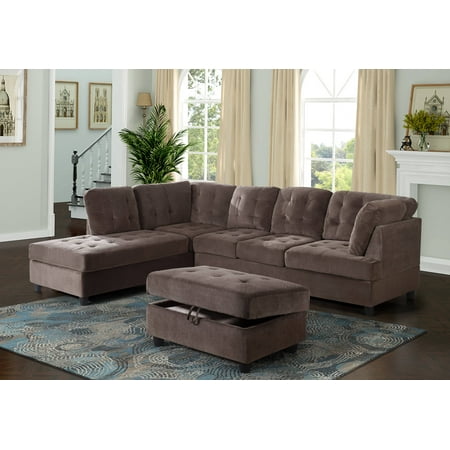 Here's another great sectional option. The upholstery is an espresso-colored corduroy type fabric with a tufted back and seat design. The included ottoman adds other leg extension options for watching the game, and it includes handy storage. This is a left-hand configuration, so keep that in mind when considering your furniture arrangement. The back is a generous 36" tall, and the overall length of the chaise end is 112". Seat depth is a comfortable 23". The firmness is listed as medium firm.
Click here to see this sofa on Walmart.com.
10. Long Full Sofa Bed
This red charmer is not only a sofa but a full bed when opened up. Made by Ashley Designs, it's 90" long by 40" high by 39" deep, which are generous proportions. It has an easy lift mechanism to access the full-size bed with an innerspring mattress. Zero assembly required, which is a real bonus.
Click here to see this on Walmart.com.
11. 3-Seat Reclining Sofa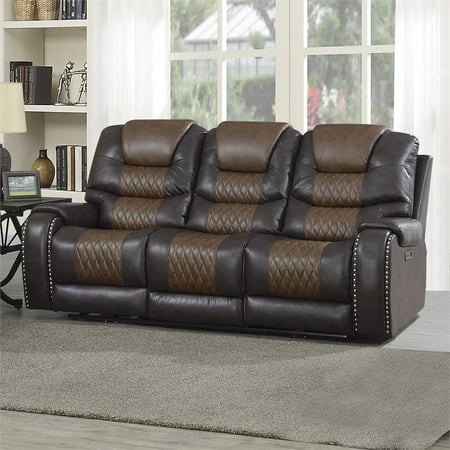 Love to watch movies from the comfort of your couch? Then consider this 3-seat reclining sofa from Park Avenue. Each seat is quilted with corresponding color accents. They are padded with comfortable memory foam. Each has a push-button reclining control with USB charging ports for your phone or laptop. The seats have no-sag, pocket coil seat springs. The faux leather is available in mahogany, black, or gray.
Click here to see this at Walmart.com.
12. Classic Tan Curled Arm Couch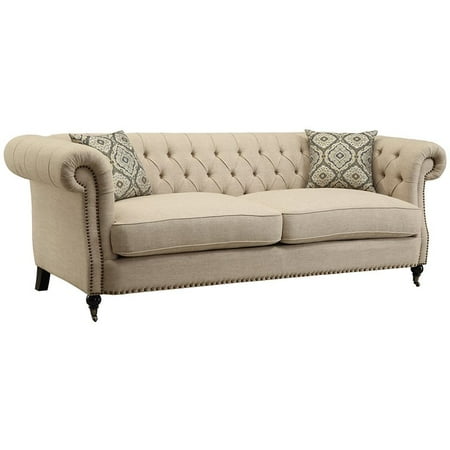 This is an elegant sofa for the living room. Good enough for company or the family to sit and enjoy one another's company. It's a generous 93" long and has a suitable 34" height. It's upholstered in an oatmeal-colored linen fabric and finished with aged brass buttons and dark-stained wooden legs. Pocket coil seating helps keep the reversible cushions from sagging. It also comes with two accent pillows for a complete look.
Click here to see this sofa at Walmart.com.
13. Pinstriped Sofa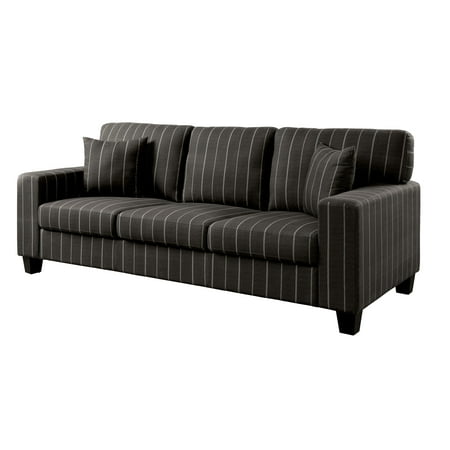 Here's something as classic as your favorite three-piece suit. This contemporary sofa is covered in a handsome dark charcoal grey with a subtle white pinstripe. It has wide track arms, tapered wooden legs, and included matching accent pillows. The sofa is 90" long, has a generous back of 36" and is 38" deep (including cushions). Some assembly is required, and there are coordinating pieces available for this couch as well.
Click here to see this sofa at Walmart.com.
Thanks for checking out our list of sofas for tall people here on HomeDecorBliss.com. If you liked this post, please check out these others you may enjoy below:
How to Place a Rug Under a Sectional Sofa
How to Arrange Throw Pillows on a Corner Sofa or Sectional Couch?