When it comes to your home, the outside of your house is what usually gives first impressions.
One of the key fixtures when it comes to these impressions is your front door! While replacing a front door might be a pain, you can generally repaint it with little to no hassle.
So, what are the rules for painting your front door?
When painting the interior and exterior of your door in different colors, the trickiest parts are the borders.
Paint the border that swings inside when you open the door the same color as the interior.
Paint the side of the door where the hinges are attached in the same color as the exterior.
With all the different options you have, you may still have some more questions. Keep reading, and we'll help you answer them!
How to Paint the Door
There aren't a whole lot of specifics when it comes to painting doors that might make it difficult. There are, however, a couple of tips and tricks you should know that will help your door appear more cohesive and visually appealing.
First, you don't need to worry about painting the very top or the very bottom of your door. Have them nicely sanded, but since they won't be seen, there is no reason to paint them.
In fact, it's probably better not to paint them, especially since there is a chance the paint could rub off onto your door frame. If they're the same colors, that might not be a big deal, but if they aren't it will be noticeable and could require a frequent touch-up.
If you're painting the front and back of your door different colors, you're going to end up painting the sides of your door different colors as well, and it's important to know which color each side needs to be.
When you open your door from the inside, the side of the door that swings inward toward you should be painted the same color as the inside of the door. This will help keep things cohesive and give you a more uniform appearance when you open the door.
The same principle is applied to the side of the door where the hinges are attached. Since it swings outside when the door is opened, it should be painted the same color as the outside of the door to keep things uniform.
Hiring a Professional Painter is always an option
Does that sound like a lot of hassle?
You don't have to do the work on your own. It's absolutely ok to bring in a professional.
A vetted professional painter may not be able to help you with the choice of colors, but they can certainly help with making sure the end result looks great.
Get the results you want - find a qualified professional painter

Should Door Frames Be The Same Color As The Door?
This is one of those things where there isn't a right or wrong answer, and it completely depends on your personal taste, current decor style, and whether or not you want to spend the time and money on changing things up.
Many houses come with a door that is the same color as the door frame, which is often the same color as the trim on the outside of the house, or the same color as the walls in the house.
If you've decided to paint your door, you'll generally want the door frame to be the same color as the door, or the wall around it. However, this isn't always the case!
If you decide you want your door trim and your door to be different colors, but you don't want them to match the surrounding wall either, it's always safe to go with neutral colors, and white is a popular choice.
For example, the outside of this house isn't a solid color paneling, which would be hard to match. In this case, having a different colored door, paneling, and trim worked out quite well!
When it comes to the inside of your house, it really just depends on how much attention you want to be brought to your door.
Bringing lots of attention to your front door on the exterior side is a common choice since there aren't many other obvious focal points that would get traction from the outside.
On the inside though, you might have other things that you want to be given more attention. Really, it's all up to you! Remember, if you decide to use several different colors, neutrals work best.
What Color Should The Interior Front Door Be?
This completely depends on how much attention you want to be drawn to your front door when you have people in your home. If you don't want it to be a focus, you can keep it the same color as your walls, or a generic undecorated white.
If you want the door to be a different color but aren't sure what, take a look around at your decor.
Pick a prevalent or repeating color, and paint your door that color. This way you'll be helping bring a cohesive feel to the room, instead of adding a random color that doesn't do much for your aesthetic.
In addition to using paint, if you have a lot of nice wood decor in your home, you could replace your door with a nice, stained wooden door.
What paint to choose for your doors
Figuring out what color you want your door to be is one thing. The next piece of the puzzle is to figure out which type of paint to use.
Fortunately, there are several excellent paint brands to choose from.
Sherwin-Williams and Benjamin Moore are two popular high-end options. Both offer lines of products for both interior and exterior paint jobs. You can order paint from these brands online and then drive to your local branch to pick it up.
If you choose Sherwin-Williams or Benjamin Moore, be prepared to budget your project accordingly. A gallon of paint or stain will likely cost you well over $50.
If you want, you can order the Benjamin Moore color fan. Always good to have on hand whenever the creative mood hits you.
Get the Benjamin Moore fan on Amazon
If you're on a budget (and who isn't?) then there are great options at more reasonable prices too.
In fact, Amazon carries some great brands, so you can order pre-mixed paints and have them delivered to your home. Sometimes within mere hours (depending on where you live and of course, assuming you have Amazon Prime).
For example, check out the Rust-Oleum Amazon Store here. This trusted brand offers multiple options for painting and staining all your doors - inside and out.
Should All Interior Doors Be The Same Color?
They can be, but they don't have to be. This is especially true when it comes to your front door, where some variety in style and color can be expected.
Should You Paint All Exterior Doors The Same Color?
While you don't have to paint everything in a single color, when it comes to the outside of your house there aren't a whole lot of other elements for you to match your doors with.
Painting all your exterior doors the same color is a very simple way for you to make the outside of your home visually appealing.
If you choose not to paint your exterior doors the same color, just be sure the color scheme functions cohesively.
What Does The Color Of Your Front Door Mean?
There are traditional meanings to colors, and they can all be boiled down to a few basic principles. If your door is a cool color in shades of blue, green, or purple, people may view you as a more calm, relaxing person.
If your door is a warm color like red, orange, or yellow, people may view you as a passionate, outgoing homeowner.
Read more: What Does A Red Front Door Mean?
In Summary
We hope this article helped you decide whether your front door should be the same color inside and out.
And remember, turning your vision into reality doesn't have to be too hard. You can hire a professional painter to help you paint your door just the way you want it to be.
Click here to find a qualified professional painter in your area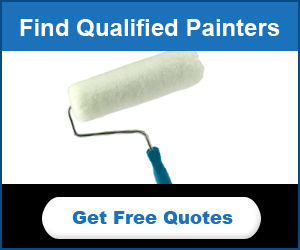 FAQs
What does a blue front door symbolize?
A blue front door is often associated with trust, peace, and harmony. It is believed to create a welcoming atmosphere and bring a sense of calm to the home. It can also represent a fresh start or a new chapter in life.
What does a blue front door mean in feng shui?
In feng shui, a blue front door is believed to bring a sense of peace and tranquility to a home. It is also said to draw good luck and abundance, which is why it is often used in entranceways. In addition, blue is associated with the element of water, which is known for its calming and cleansing properties.
What does the blue door mean?
The meaning of a blue door can vary depending on the context. Generally speaking, a blue door can represent a new beginning or a sense of calm and tranquility. It can also symbolize protection, faith, and trust.
What is the most welcoming front door color?
The most welcoming front door color is a warm and inviting hue, such as red, yellow, or orange. This is because these colors evoke a sense of warmth, joy, and hospitality.